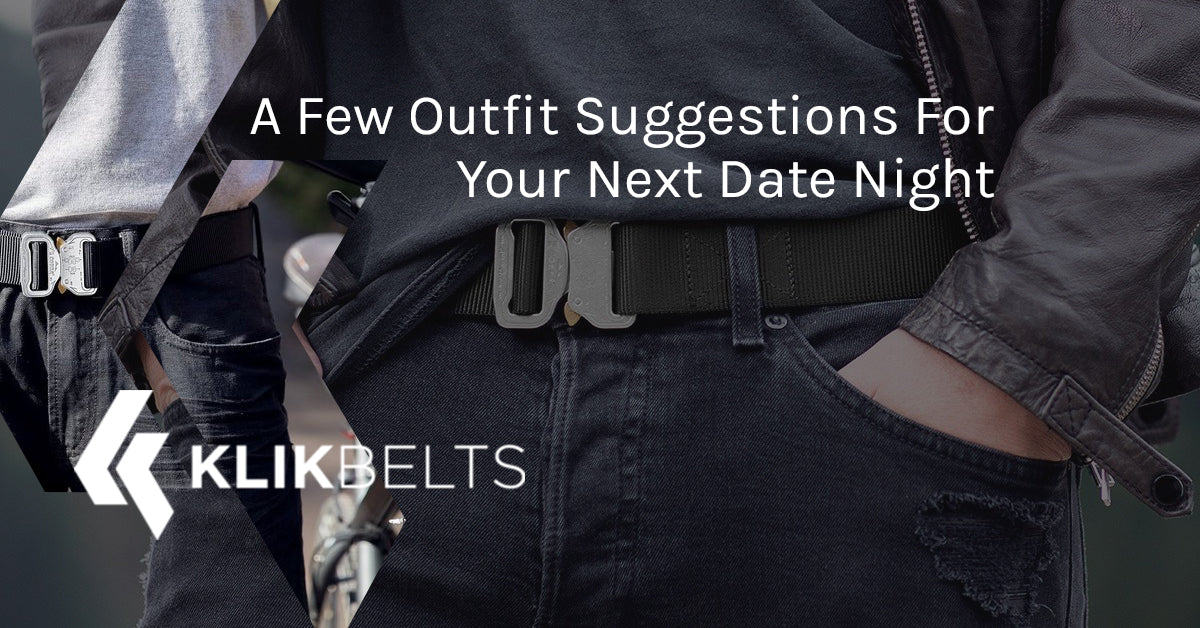 A Few Outfit Suggestions For Your Next Date Night
We know what some people will be thinking right off the bat--"are heavy duty belts really appropriate for date night?" The answer, as you can probably imagine, is that yes, absolutely they are! Here at Klik Belts, we set out to design the most comfortable belt that we could, but we knew that it also needed to be a belt that could stand up to whatever was thrown at it. Add in the fact that it needed to look good and Klik Belts were born.
So not only can you wear our belts on a hunting trip, at the office, or on vacation, but you can also wear one on your next date night. Finding casual belts for jeans can sometimes be a challenge, but figuring out what you're going to wear for a night on the town can be even harder. Luckily for you, we are here to help you tie the pieces of your wardrobe together into an outfit you can be proud of and that your significant other will appreciate.
Keep It Casual
Not every date night requires you to wear a suit and tie. Sometimes you're just going to grab a bit of pizza before heading to the local movie theater and your attire should be laid back. If that's the case, we think that a pair of khaki pants, a sweatshirt, a pair of boots, and a Klik Belt ought to do you just fine! Choose a dark colored sweatshirt--black or blue are always great options--and brown boots and pair it with a Matte Black Klik Belt for a pairing that is casual, but still smart.
You could even go a bit more casual and opt for a pair of canvas sneakers for a slightly preppier look that still looks put together. Need to dress things up a notch? Throw an oxford cloth button down beneath your sweatshirt because an extra layer always seems to make an outfit just a little bit better.
Jeans Are Perfectly Appropriate
There's nothing more American than a pair of good blue jeans, and in many cases these are perfectly acceptable when you're on a date. You might not want to go to the finest restaurant in town in a pair of jeans, but pretty much anywhere else should be just fine. Going to grab a cup of coffee and then walk around downtown? Jeans are a great choice.
A few things to remember will help tie everything together. Your jeans should be dark in color. Forget about the pre-faded and distressed jeans that you wear on the weekends. Every man should have a nice pair of dark blue jeans in his wardrobe.
One particular outfit to consider is the previously mentioned dark jeans, a flannel button up shirt, brown boots, and a light jacket. Keep it smart with a duck cloth jacket to look sharp and well put together. This outfit is classic and when you choose your pieces carefully, you can look like a million bucks.
A Grey Suit
Sometimes you are going to have to wear a suit. It's just a fact of life! Whether it's when you see a play at the local theater or you head to a work party, wearing a suit well can be a bit of a challenge. Fortunately for you, we have a few pointers on how to pull everything together to create a look that's sharp.
You see, a grey suit works in a number of different situations. Whereas if you have a black suit, you can only really wear it to weddings or funerals, a grey suit can be worn pretty much anywhere a suit is required. Wear a grey suit, a white shirt, black dress shoes, and a black tie, and you'll fit in with even the classiest of situations. As far as your belt goes, you could choose either the Polished Aluminum and Black Klik Belt if you want to make a bit of a statement with some contrast or choose the Olive Slate Klik Belt if you'd prefer to be just a little bit more subtle. Either way, the end result is that you're going to look incredible and your date is going to be proud to be seen with you. How's that for a great date?
Order Yours Today
In short, you could wear a Klik Belt in pretty much any situation and be just fine. Our heavy duty belts have been designed to stand the test of time and look incredibly good doing it. No matter what your date night requires of you, you can rest assured that your belt won't let you down.
Take a look at all of the belts we offer to find one that suits your style the best and then place your order with confidence knowing that you just bought the best belt on the face of the planet!