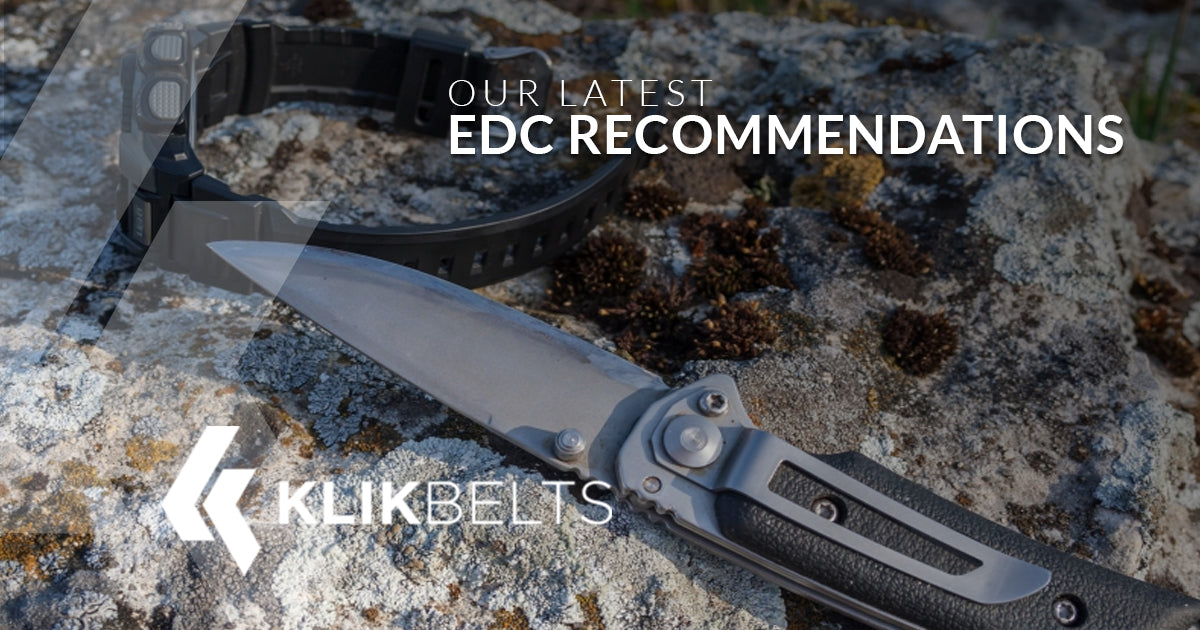 Our Latest EDC Recommendations
If you have followed along with the Klik Belts blog for any amount of time then you probably know that we're big fans of great EDC items. Also known as everyday carry items, we highlight some of our favorites from time to time over on our Facebook and Instagram pages. We've found over the years that many of the people who are fans of our heavy duty belts also appreciate quality EDC items.
That's why in today's post we'll be sharing a few of our favorite discoveries so far this year. Whether you're searching for something new or you're just curious to see what will make our list, we hope that you'll get something out of today's post. Keep reading to learn more!
Everyday Carry You Can Count On
Boker Plus XS OD Knife
If you've done any woodworking in the past then you've probably heard the phrase that there's no such thing as owning too many clamps. The EDC equivalent comes in the form of pocket knives. Sure, there's likely to be a particular knife that you end up carrying more than the others, but it's worth having at least a handful of spares.
Our current recommendation is for the Boker Plus. This knife's olive drab G-10 handle is subtle and beautiful at the same time and a reversible pocket clip allows for some variation. Its 3" blade is ideal for everyday carrying as well making this an easy knife to recommend.
Timex Weekender
Sure, there's a clock on your smartphone, but there's still something about actually wearing a watch on your wrist that's hard to beat. A quick glance tells you everything you need to know and adds a bit of charm to your look in a world that is moving in a different direction.
That's why our current pick is for the Timex Weekender. There's a lot to love about these watches. They're inexpensive, there are a number of different straps to choose from, and the dial lights up with Timex's Indiglo feature.
If you don't have a watch that you wear regularly, this is a great place to start and a hard watch to beat even at several times the Weekender's price.
Portable Anker PowerCore
Okay, yes. We did just get done talking about not needing smartphones as much, but that doesn't mean that we don't need them at all. Whether you're the type of person who has to work on the go and find that all of the emails are draining your battery or you simply get caught in a situation where you don't have a charger, having a backup plan is key.
That's where the Anker PowerCore comes in. With two USB ports to charge from, the PowerCore is hard to beat for its price. Its amazing reputation precedes it and we can say without a doubt that we're glad to have this lifesaver tucked away for when we need it. It's about the same size as many modern smartphones making it simple to slip into your pocket, tuck into your glovebox, or stow away in your backpack. You can't beat having a bit of battery insurance in today's world and this little device gives you some much-needed peace of mind.
Make One of Our Heavy Duty Belts Part of Your EDC
With free shipping and a 100% money-back guarantee, Klik Belts also make a great addition to your everyday carry items. We strive to make the best men's belts on the planet so whether you sit at a desk or work in the field, our belts are designed to stand the test of time.