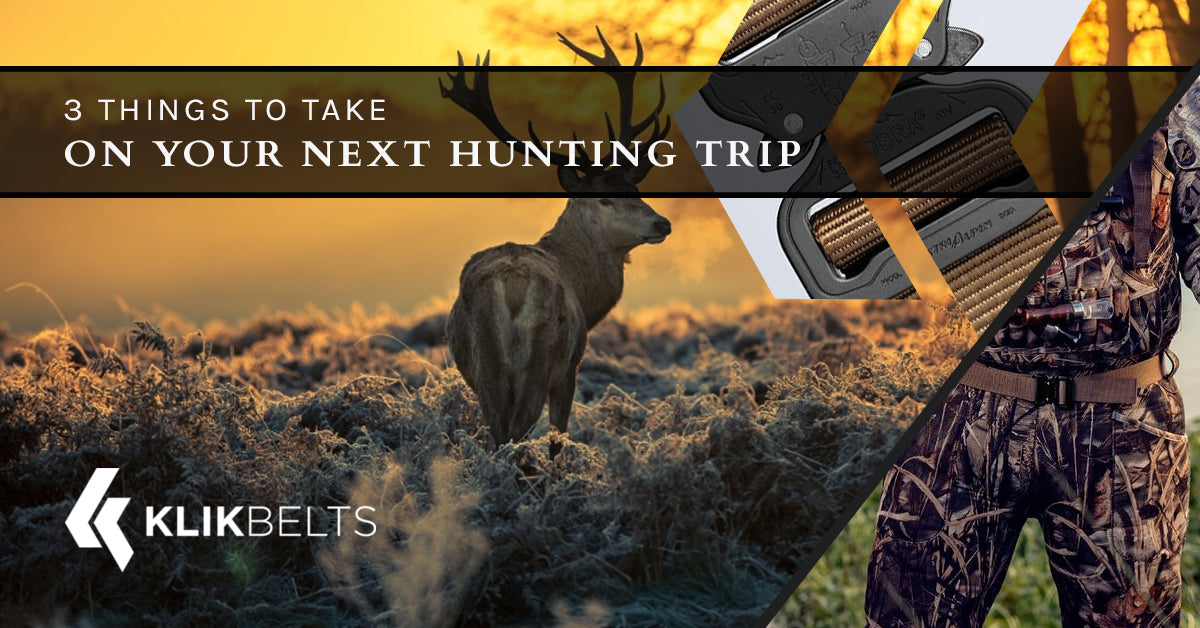 3 Things to Take on Your Next Hunting Trip
If you're planning a hunting trip, chances are that you have already considered which firearm to bring with you and how much food you'll need, but there are a few things you might be forgetting. Fortunately for you, the team at Klik Belts is here to help!
That's right--we do more than just make the strongest belt on the planet! We also help those who have similar hobbies and interests as we do, ensuring that a little bit of knowledge makes its way to those in need. You see, we've gained quite a bit of helpful advice and information from people over the years. Whether it's from grandparents, co-workers, friends, or customers, that advice has been incredibly helpful to us and we love passing it along.
So without further ado, let's get to the topic at hand!
What to Bring On Your Next Hunting Trip
A Heavy Duty Belt
First things first--we'd be remiss if we didn't mention that you need a good belt to keep your pants up. You could be wading through some water or roughing it in the brush, but either way, you are going to want a belt on hand. Because our belts are useful for much more than just wearing on your waist, they can also come in handy when you need an extra hand. Available in a number of sizes and colors, you can choose just the right option to fit in with the rest of your hunting gear. We strongly believe that we make the best outdoor belt around, so make sure you have one before you head out on your next trip.
A Jacket
As you might know, the weather can change pretty quickly when you're on a hunting trip. If you're going out for any amount of time--and particularly if you're going on an extended trip--you'll need some protection from the elements. We've mentioned them before, but we believe that Filson makes some of the best outdoor gear on the planet. Most of their outerwear is made in the United States (just like our belts!) and it can make a world of difference when rain or snow start to fall.
As a matter of fact, we believe that smart layering is one of the best things you can do for yourself on a hunting trip. Of course you don't want to be bogged down with clothes, but being able to shed a layer or add something on top helps to make you comfortable, ensuring that you stay alert while you're hunting. Speaking of which...
Easily Packable Snacks
If you want to stay alert, you also need snacks. You may have planned for meals, but taking snacks that are easy to pack can be a huge lifesaver. After all, a snack means more brain power which means the difference between staying focused and bagging your game or returning home empty handed. Beef jerky, peanuts, and trail mix all make for great choices that are both big on protein and easy to slip into a pocket so you can snack even while you're on the go. Of course you'll also want to bring a thermos with water to be sure that you're hydrated! There's nothing worse than feeling a headache coming on because of dehydration while you're right in the middle of a big hunt.
Order Your Klik Belt Today
As far as the jacket and the snacks go, we'll leave you to finding the options that work best for you. The outdoor belt, on the other hand, we can help you with. Shop the entire collection of Klik Belts and find the one that best suits your needs, then order in confidence, knowing that you're getting one of the best belts in the world.
This is by no means an exhaustive list of what to take on a hunting trip, but these are three of the things we think can often get overlooked. Of course we'd also love to hear what we missed! What do you think are the most essential pieces of gear to take on a hunting trip? We believe that the answer will vary from person to person, but the more people who have opinions on this, the more things there are for others to consider.