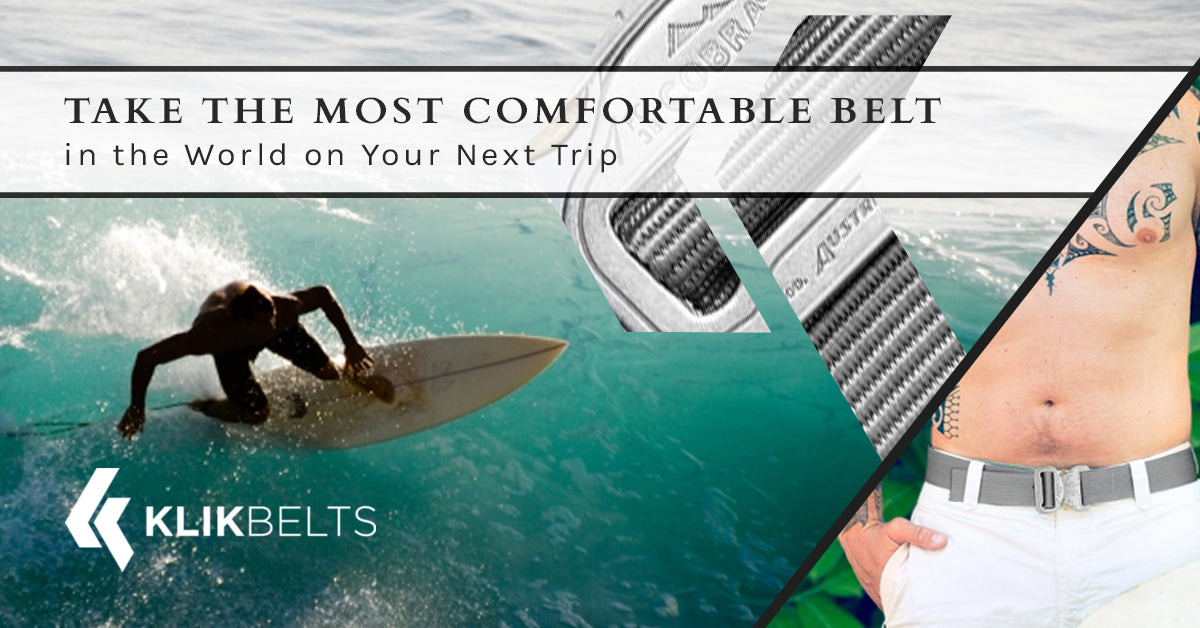 Take the Most Comfortable Belt in the World on Your Next Trip
While some have already taken their yearly vacation, there are still plenty of people out there who are gearing up for their next big trip. Whether it's a romantic weekend getaway without the kids or you have the whole family in tow and you're flying across the country to spend a week on the beach, it makes for a pretty exciting time! Everybody loves taking the time to get away from the stress of work to spend some time relaxing (and if you don't, you're the type of person who truly needs a vacation).
But, of course, along with the joys that traveling can provide, there are also a few things that people worry about. "How many pairs of pants should I bring? Do I need to bring more than the shoes that I'm wearing? The weather might change while we're there, so maybe I should pack a jacket." It can be tricky to get yourself through these planning stages.
Klik Belt Makes it Easy to Travel
We can help you out with one of the problems you're having, friends. If you've traveled with more than one belt on any occasion, Klik Belts are the perfect solution. Not only are they the most comfortable belt you're likely to find, but the benefits of wearing one to travel are numerous.
As we said, they're incredibly comfortable. That means that whether you're in the car for five hours or on the plane for all day, our belts keep you feeling good. You can easily loosen or tighten your belt for a custom fit throughout the day to accommodate for a number of different factors. That means that not only are you comfortable in the car or in the air, but you will also be comfortable whether you're exploring a city on vacation or going out for dinner at a fancy restaurant.
That's right--whatever you choose to do on your trip, you can rest assured that you'll always be comfortable and you'll look darned good doing it. Speaking of which...
The Best Men's Belt Can Do Double Duty
We think that all of our belts look great, but if you're wondering which one to bring on your trip, the matte black strap with matte black buckle is a great combination. Black is easy to dress up or dress down depending on the occasion, making it an incredibly versatile choice. And we know about the convention wisdom that people often use--"never mix brown and black"--but that advice is outdated. Black and brown look great together, so wear them with confidence.
And as far as what pants to bring, how many pairs of shoes to pack, and if you should wear a jacket, we can help on that front too. For many destinations, you'll be just fine wearing a dark pair of jeans or khaki pants, comfortable boots (Thorogood makes a sharp-looking, easy-to-wear pair of boots that look great no matter what you're doing), and a couple of button up shirts. Grab one dark colored flannel shirt for if the weather gets chilly and an oxford cloth button up for if it's warmer out and you ought to be set no matter what you're doing.
Packing a minimal wardrobe while you're vacationing is not only a time saver, but also a space saver, making it invaluable to choose what you're bringing very wisely. Of course the uniform we laid out above might change depending on the climate of where you are going. You may want to opt for something lighter (such as shorts and a short sleeved button up) if you're headed to the beach, or heavy jeans, a jacket, and a beanie if it's going to be cold where you are.
Always Be Prepared
You see, there's a fine art to packing for a trip. You don't want to pack too much, but you also don't want to be left wanting. The worst thing to have to do during a trip is purchase something you didn't pack and already have at home. The solution, of course, is to just make sure you think through all of your options and do a bit of informed decision making.
What we mean by that is that it's a good idea to take a look at the weather forecast for the amount of time you'll be traveling. You'll also want to look at your itinerary of things to do while you're on your trip in order to be prepared. Simply knowing what the weather is going to be like and what activities you'll be participating in can go a long way towards ensuring that you are prepared and can pack minimally while getting the maximum level of enjoyment out of your travels.
Order the Best Men's Belt on the Planet Today
No matter what your trip has in store for you--whether it's laying on the beach, sampling the finest restaurants that the city you're visiting has to offer, or even exploring some rugged terrain on an outdoor adventure--your Klik Belt won't let you down. We believe that our belts are the best because they can hold up to pretty much anything you can throw at them. And they're incredibly comfortable to boot! It really doesn't get much better than that.
Available in a number of different colors and sizes, we have you covered no matter what your trip looks like. Order your Klik Belt today!