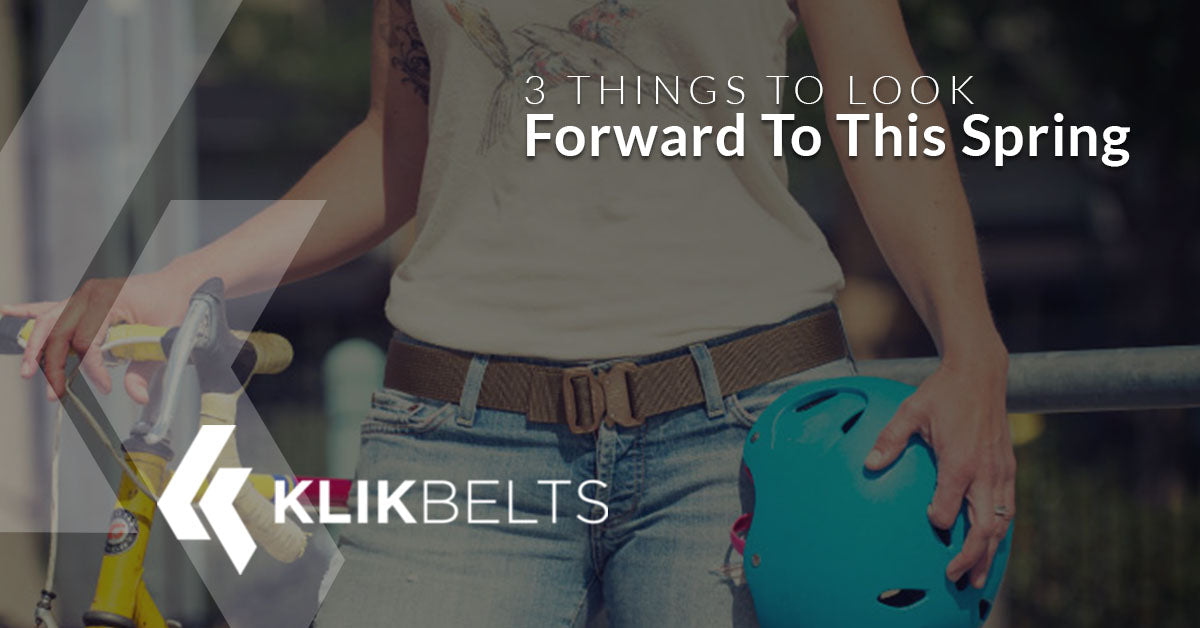 3 Things to Look Forward to This Spring
At Klik Belts, we strive to make the best men's belts on the planet and with spring right around the corner, we hope that people will be enjoying warmer weather by immersing themselves in their favorite warm weather happenings. But with all of the activities that you will no doubt be participating in, you'll want to be sure that you have one of our heavy duty belts to help you keep your britches up.
Of course there is plenty to look forward to, but in today's blog, we'll be counting down three of the things that we're looking forward to the most as the weather starts to change. What will make the list? Keep reading to find out!
Gear Up For Spring With...
Grilling
Is there anyone on the planet that doesn't enjoy a really great burger or brat on the grill? If so, we'd like to meet them. It just doesn't seem all that likely that such a person exists! As the weather starts to change and the sun stays out longer, people all across the country are going to be firing up their grills in order to enjoy some of the best food on the planet. Oh, and it helps that grilling doesn't heat up the house when it's already getting warm.
Baseball
It's known as America's pastime for a good reason. Spring training has just ended and Opening Day is a few short days away. The Astros and the Dodgers played all the way to Game 7 last year and the Cubs did the unthinkable by winning back in 2016. What does 2017 have in store? It's anyone's guess, but you can bet that we'll be doing our best to make it out to a handful of games to enjoy people watching, ballpark food, and a bit of entertainment. After all, baseball is so dynamic that any team can beat any other team on any given day, keeping things exciting throughout all 162 games during the regular season. It really doesn't get much better than that!
Camping
We'll also be gearing up to load up the car with a tent, sleeping bag, and the ingredients for s'mores this spring. (And, of course, we'll be bringing along the world's best camping belt!) Whether you go camping to enjoy a bit of rest and relaxation or to be at one with nature, there is plenty to love about the great outdoors. Wherever you choose to camp, we're sure you'll have the time of your life. We know we always do!
Grab a Klik Belt Today
Regardless of what lies ahead for you this spring, you can be ready for anything with a Klik Belt. Available in a number of colors, and made to stand the test of time by utilizing the highest quality materials, we believe that ours are the best men's belts on the planet because we won't settle for anything less. However you'll be wearing yours, you can enjoy a perfect fit time and time again--and start each and every day with a satisfying Klik.