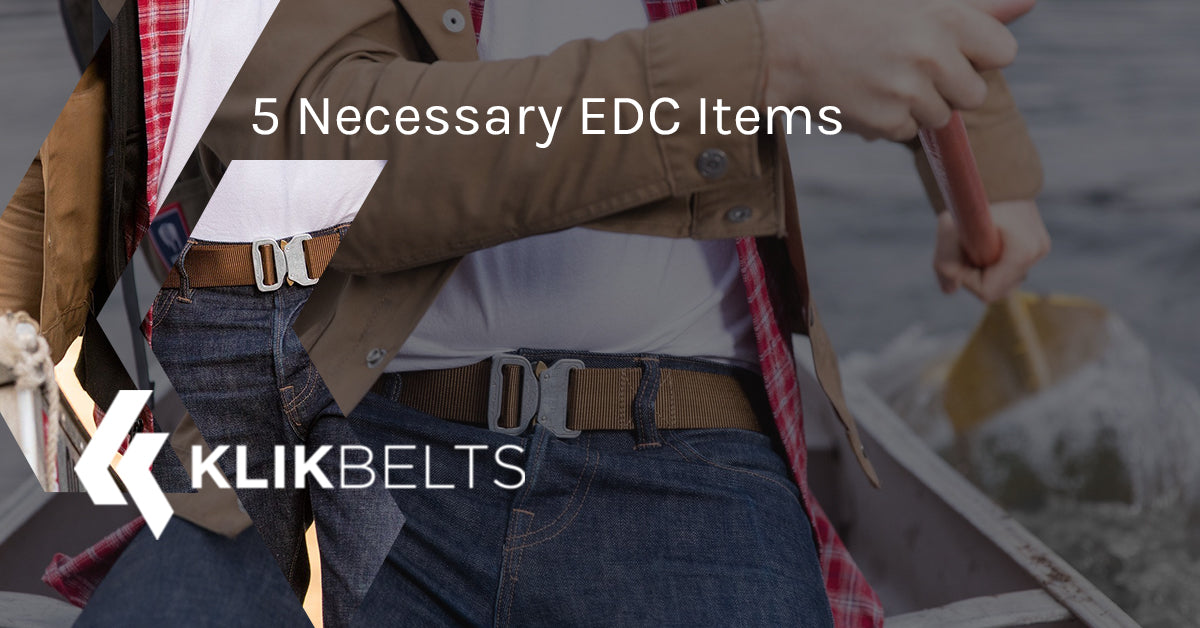 When we set out to create the best men's belts on the planet, we had a strong desire to make something that people would rely on for decades. As huge fans of finding the best everyday carry items ourselves, we also knew that we wanted to make something that would work great for a number of different people in a number of different scenarios. Our product needed to be tough and sturdy, but it also needed to look good.
We believe that we have succeeded in our goals, but we're still looking to improve on what we do every day by offering new color options and features for the products we offer in order to make our customer's lives just a little bit better. At Klik Belts, we also continue to be passionate about our EDC items. As people who enjoy finding just the right items to carry with us each and every day, we thought we'd put together a list of a few things we think every person ought to have on him or herself that you may not have even considered before.
So without further ado, we present to you our list of…
5 Everyday Carry Items Every Person Should Have
A Belt
Well, more specifically, why not just get the best men's belt and be done with it? As we mentioned above, we designed our belts with the idea in the front of our minds that people would be able to use and abuse them every day no matter whether they were doing jobs that required them to be physical or whether they were sitting at a desk and working a nine to five. The belt needed to be comfortable, good looking, and able to handle anything that comes your way. That's all there is to it. In addition to holding your pants up, our belts also come with a great guarantee--if your belt ever fails, just let us know and we'll make it right.
A Wallet
No matter who you are or what you do, you need to have a wallet that can stand up to whatever your day looks like. In our opinion, that means something made of a nice, sturdy leather. You can opt for a bi-fold, a tri-fold, or anything else you darned well please, but the key is to finding something that strikes the perfect balance. In other words, you want it to be able to hold cash and cards with ease, but you don't want to venture into George Costanza territory and have something that causes you back pain because it's stuffed full of old receipts.
A Pocket Knife
If you've never carried a pocket knife with you before, you will probably be surprised to find out that you'll actually use it quite a bit once you start carrying one. From opening envelopes and boxes that show up in the mail to cutting loose threads off of your clothing to being an impromptu screwdriver to propping open a locked door so you don't get locked out, having a pocket knife takes up very little space in your pockets, but serves a number of different purposes that you may never have even considered before. One bit of advice we have is to not spend too much on a pocket knife. Yes, you want to get something that's sharp and won't break after a few months, but don't feel like you have to go overboard to get something that's nice. Read a few reviews and make a choice to ensure that you get something you'll get the most out of.
A Handkerchief
It seems that nowadays most people don't even own a handkerchief, let alone carry one in their back pocket every day. We'd like to make a case for reintroducing this item into your list of necessary everyday carry items. The benefits are that it takes up very little space, but that you can use it to clean your glasses, sneeze into, or even blow your nose if there is no kleenex to be found. And hey, as long as it's clean, you can also offer it to your significant other when they tear up at the movies. Just be sure to wash it on a regular basis and you're good to go. Trust us when we say that much like the pocket knife above, you will use a handkerchief much more frequently than you would initially suspect once you actually start carrying it with you.
A Bottle Opener
There are a number of great bottle openers on the market and some will even fit conveniently on your keychain. Many bottle openers even double as other useful items such as screwdrivers, pry bars, or USB drives. No matter what type of personality you have, we think you will be able to find something that suits you. Choose one that you like and that is easy to carry and you'll be everyone's favorite friend when you all sit down to enjoy a nice, cold drink and you are the thoughtful person who has chosen to carry the one item that can get those drinks open.
We Can Help You With the Belt
If you're looking for an awesome belt to make a part of your EDC arsenal, we would be glad to help you with that. We have a number of belts to choose from so you can find just the right one to suit your personal style. As far as the other items go...well, you're on your own, but we think that with a little bit of thought and consideration, you will be able to find the item or items that work the best for you.
What are we missing from our list? We know that different people have different ideas of what should be carried every day and we'd love to hear from you so we can consider adding them to our own collection of necessary everyday carry items. There's always something else that could come in handy, right? We sure think so. Until next time!