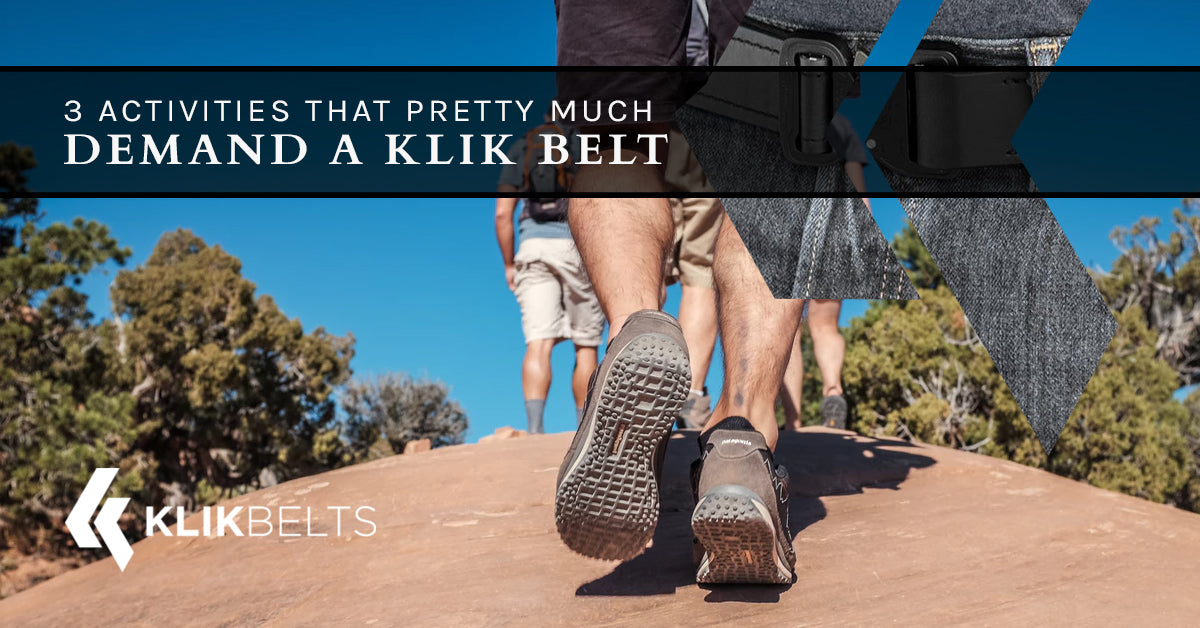 3 Activities That Pretty Much Demand A Klik Belt
Our heavy duty belts are made to stand the test of time. Regardless of how you choose to spend your day, we believe that you should have a belt that keeps your britches hitched up. At the end of the day, that's what a great belt can do and we believe that ours do it better than pretty much anything else out there. By utilizing high quality materials and building our products to last, we're able to ensure that you get the most bang for your buck.
Choose the color of belt and buckle that suits you and you're off to the races--or anywhere else for that matter. And speaking of matters, as a matter of fact, there are plenty of activities that are just a little bit easier when you have a good belt. In today's blog, we'll take a look at three of them, so keep reading to learn more!
Klik Belts Are Perfect For...
Hiking
Everybody loves going on a good hike from time to time. For some of us, a hike is simply throwing on some comfy shoes and exploring our neighborhoods. For others it means heading to a national park and doing some climbing. However you define it, you'll want a belt that does its job marvelously. There's nothing worse than heading out for a long walk and finding that your pants just aren't staying up. You have to reach back and grab a belt loop to hitch them up every third or fourth step and if this is something you've experienced before then you know it gets old pretty quickly. A Klik Belt provides you with the perfect solution.
Exploring a New City
There's nothing better than exploring a new city and finding the treasures it has to offer. Whether that means flying to a different part of the country on vacation and making your way through unfamiliar terrain on a mission to seek out the best restaurant or it means going to the next town over on a date night with your spouse and finding something fun to do, you'll need a good belt. A Klik Belt is the perfect solution because they look good pretty much regardless of what you're doing and you'll always be prepared for whatever is next.
A Hunting Trip
Let's say you're gearing up for a hunting trip with your friends. You've gotten your camo gear, prepared for potential inclement weather by getting a waxed canvas jacket, and made sure you have your hunting license. Now all that's left is to make the trek to your hunting destination and spend some time in nature. Depending on how you like to hunt, that could mean that you'll be doing a fair bit of walking. You're going to need a belt that's up to the challenge. As luck would have it, we make the heavy duty belts you're looking for!
Order Yours Today
No matter what your daily routine looks like, a Klik Belt is the perfect choice to help keep your pants--and your spirits--up. Whether you work in an office and sit at a desk or you have to be on your feet performing inspections and meeting with clients, one of our belts ought to do the trick perfectly.
Of course they are also designed to stand up to whatever you can throw at them. Whether it's a hike, an out of town exploration, or a hunting trip with friends, a Klik Belt won't let you down. Take a look at our entire collection to pick the one that's right for you and then place your order today!