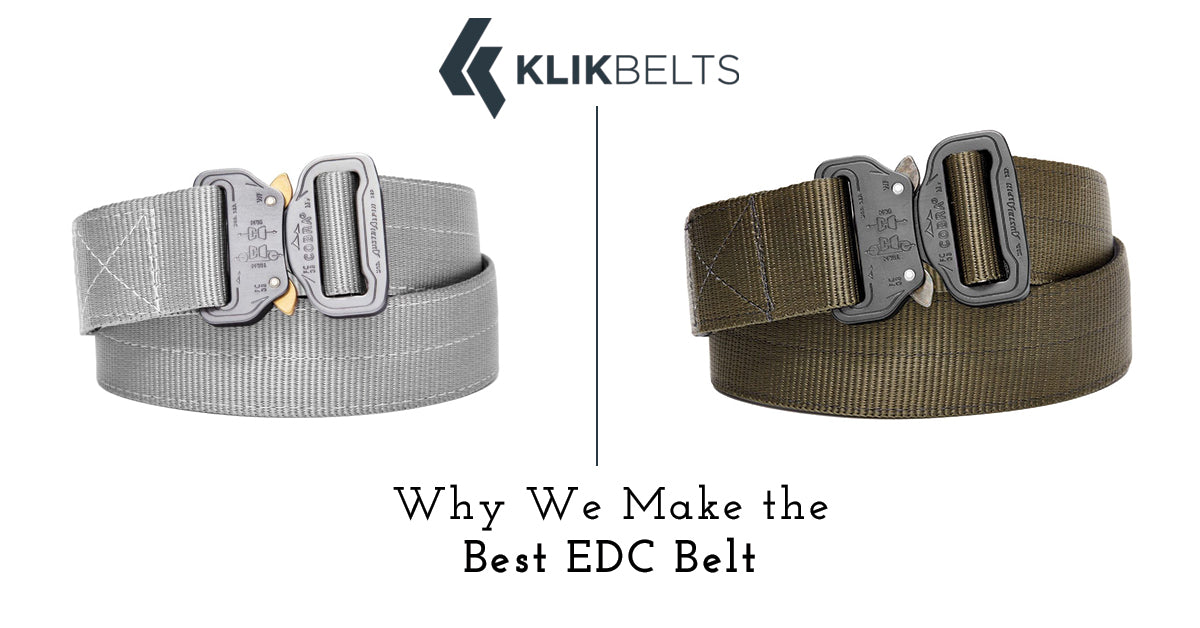 Why We Make the Best EDC Belt
The Klik Belts team is pretty passionate about everyday carry items. As a matter of fact, we've written a number of blogs about the subject. Fortunately for us, our customers love EDC items just as much as we do! As makers of the best heavy duty belts around, we're always glad to hear from people who make Klik Belts a part of their daily routine.
That's why in today's blog we'd like to take a look at a few of our current everyday carry items. It seems that new items are coming out on a fairly regular basis and it's just plain fun to take a look at these items and tweak what we're carrying in an attempt to find the best combination of items to ensure that we're well prepared without being too heavily laden.
A Few Facts
As you probably know at this point, Klik Belts are proudly made in the United States from the best materials we could find. We believe that making items that will stand the test of time is vitally important in our culture that seems to want things cheaper and cheaper even though they don't last nearly as long. As a matter of fact, more expensive items that last longer usually end up being cheaper in the long run.
Think of it this way--one of our heavy duty belts will set you back between 50 and 60 bones, but if it's the last belt you have to buy, it ends up being cheaper than purchasing a dozen cheap leather belts over the course of your lifetime. With that in mind, here are a few of the other items we have found that are built to last.
Wallets
We've highlighted a handful of other brands in the past, but we'd be remiss if we didn't mention Couch wallets. Known for creating guitar and camera straps made of recycled vinyl upholstery from vintage cars, their wallets are also pretty darned cool. Whether you prefer a bifold or a slimline wallet to store your cash and cards, a wallet from Couch will look great and last you for quite some time. They're also made in the United States which is a win in our book.
Watches
Every person should have a good watch in their closet, and we're not talking about an Apple Watch that's made to last a few years before biting the dust. A Seiko Diver's Automatic Watch can usually be found for under $200 and is a classic looking watch that can take a beating and stand up to any type of weather. At the end of the day, that's exactly what you want to get out of a watch and it's much more important than being able to ask your watch to send a text for you.
Pocket Knives
The Spyderco Para Military 2 G-10 is a pretty great knife. According to their website, this knife "features a Compression Lock and an ambidextrous-friendly four way clip which carries tip-up/tip-down, left/right-hand and rests deeper in a pocket" for maximum comfort. It's a versatile workhorse of a knife that won't let you down. Perhaps best of all is that fact that they're all made in the United States--in Golden, Colorado to be exact.
Grab the Most Comfortable Belt Around
Regardless of what else you carry with you on a daily basis, you need a heavy duty belt that's also comfortable and that's exactly what you get from a Klik Belt. Order yours today and enjoy it for a lifetime. Click here to check out our entire selection of Klik Belts.