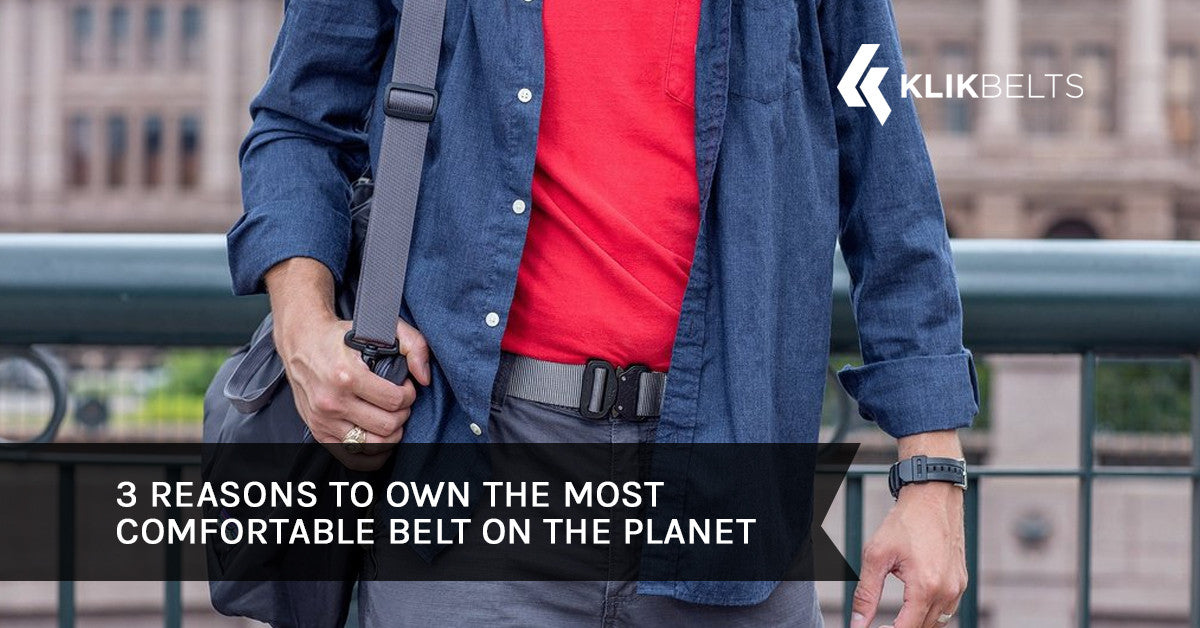 3 Reasons to Own the Most Comfortable Belt on the Planet
Klik Belts are known around the world for being heavy duty belts that can stand up to pretty much anything you can throw at them. Heck, we've tried time and time again to subject them to all kinds of abuse and the end result is always the same--a belt that takes a licking and keeps on klicking. As a matter of fact, we consulted some of our scientist friends who let us in on the fact that our belts are capable of withstanding a force of 4,050 lbs (or as they presented it to us, 18 kiloNewtons).
So what does that all mean, you ask? It means that whether you work in an office and spend your time typing away from behind a desk or you're out in the field and doing hard work day in and day out, our heavy duty belts won't let you down. If you're looking for the best outdoor belt on the planet, you'll find it at Klik Belts. In search of a tough belt to wear while you're camping? Need a comfortable belt to wear when you're out on the town for date night? Klik Belts to the rescue.
Why Own One of Our Heavy Duty Belts?
They're Tough
We mentioned it above, but it bears repeating--these belts are tough. What type of belt do you wear currently? If it's a leather belt that you got from the department store, chances are that it stretches and warps to the point that not only is it visually unappealing but also increasingly impractical.
A Klik Belt is the perfect solution thanks to the fact that it's infinitely adjustable, ensuring that no matter how much you wear it, it will always adjust to fit you perfectly. Just ate a big meal and need some extra room? Lost some weight and need a tighter fit? Klik Belts are some of the strongest belts on the planet and they're adaptable to suit your needs.
They're Practical
One of our favorite things about Klik Belts is that they're a great casual belt for jeans, khakis, or suits. You can dress them up or down and not feel out of place in any scenario that you find yourself in. Equally well suited for people who spend their days at a computer as they are for those who are looking for the best CCW belt to conceal their firearm out in the field, Klik Belts are made to be practical in as many different situations as possible.
With a variety of colors to choose from, you can be sure that you're always prepared for wherever the day takes you. Can one belt really do it all, covering all of your bases in any situation that you might find yourself in? You're darned right it can.
They're Comfortable
All of the toughness and practicality in the world don't mean a thing if you're not comfortable. The best belts are the ones that ensure that you're ready for anything. The last thing you want on any given day is to be fidgeting with your belt because of a buckle that digs into your stomach or doesn't have a hole that actually fits your waist.
After all, most belts come in 1" increments, so what happens if your waist actually measures at 36.7 inches. You either have to ratchet it down to the point of discomfort and hope that it stretches or deal with a belt that's a bit too big and might not serve the one purpose it actually has--holding your pants up. Luckily for you, you've just found the most comfortable belt available today. It is fully adjustable, ensuring that if the size of your waist fluctuates, you're covered. It's as simple as that.
Order Your Klik Belt Today
If you've been searching for the most comfortable belt that can handle whatever you throw at it, Klik Belts are for you. We make heavy duty belts without any kind of compromise, ensuring that you get a product you'll love at the end of the day.
Best of all is that our belts are made here in America using top notch materials. Order yours today and start your day with a satisfying klik!