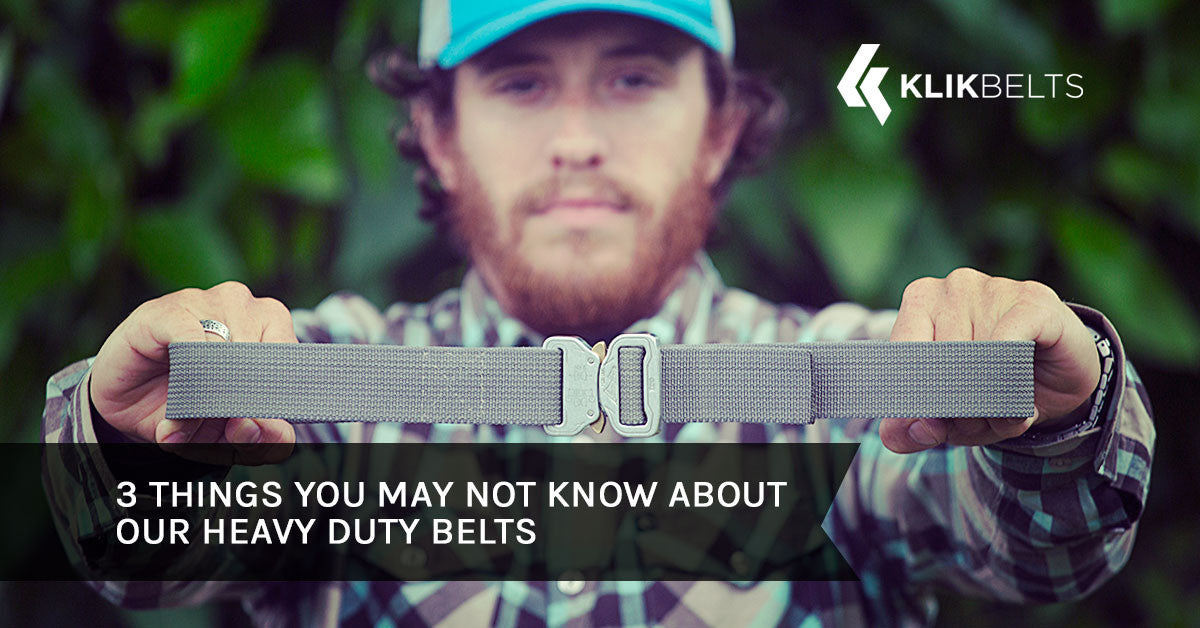 3 Things You May Not Know About Our Heavy Duty Belts
At Klik Belts, we're fully committed to making the best heavy duty belts on the planet. We start by using only the highest quality materials possible. After all, our belts can't be heavy duty if they can't hold up to whatever you can throw at them, right? That's why we use thick nylon webbing and sturdy buckles to make our belts, ensuring that whether you're looking for the best tactical belt for your CCW or the best outdoor belt to take on a camping trip, Klik Belts will answer the call every time.
But there are a few things you might now know about Klik Belts. Luckily for you, today's blog is here to help. Here are three things we think you should know about Klik Belts!
They Make Great Camping Belts
Our heavy duty belts are perfectly geared towards camping, so whether you're the type of person to pack nothing but a tent and a pillow or you prefer to head to the nearest site in your camper, our belts are built to last. When you need the most comfortable camping belt around your waist, look no further than a Klik Belt. It doesn't matter if you're hiking for miles or just sitting around a campfire with your favorite beverage, because a Klik Belt is equally well suited for both tasks and many, many more.
Military-Approved Colors Are Coming Soon
If you're in the Marines, Coast Guard, Navy, Air Force, or Army, we have some good news for you--our heavy duty belts are coming soon in uniform-approved colors so you can get rid of the outdated belt you're wearing now and suit up with a Klik Belt. No matter what you're up against, you might as well have the strongest belt on the planet on your side. Stay tuned, because we'll be unveiling our new Klik Belts soon!
We Make Dog Collars Too
You may have missed this, but we recently rolled out our line of dog collars. That means that the same high quality materials and the attention to detail you find in our heavy duty belts is now available as a collar for your pooch. If your dog seems to go through collars quickly, then you're in luck, because now the same great product you expect from Klik Belts can be found for your pup's collar.
Order Your Own Heavy Duty Belt Today!
Here at Klik Belts, we're proud to say that no matter what product we offer, it's built to last. As a matter of fact, take a look at our reviews to see what other customers have to say. Whether you're looking for the most comfortable belt to wear for your next camping trip or you need a belt that will securely hold your concealed carry weapon in place, Klik Belts are for you.
With a number of different colors available, we have something for everyone. Shop our entire selection of Klik Belts today and start your day off with a satisfying klik.