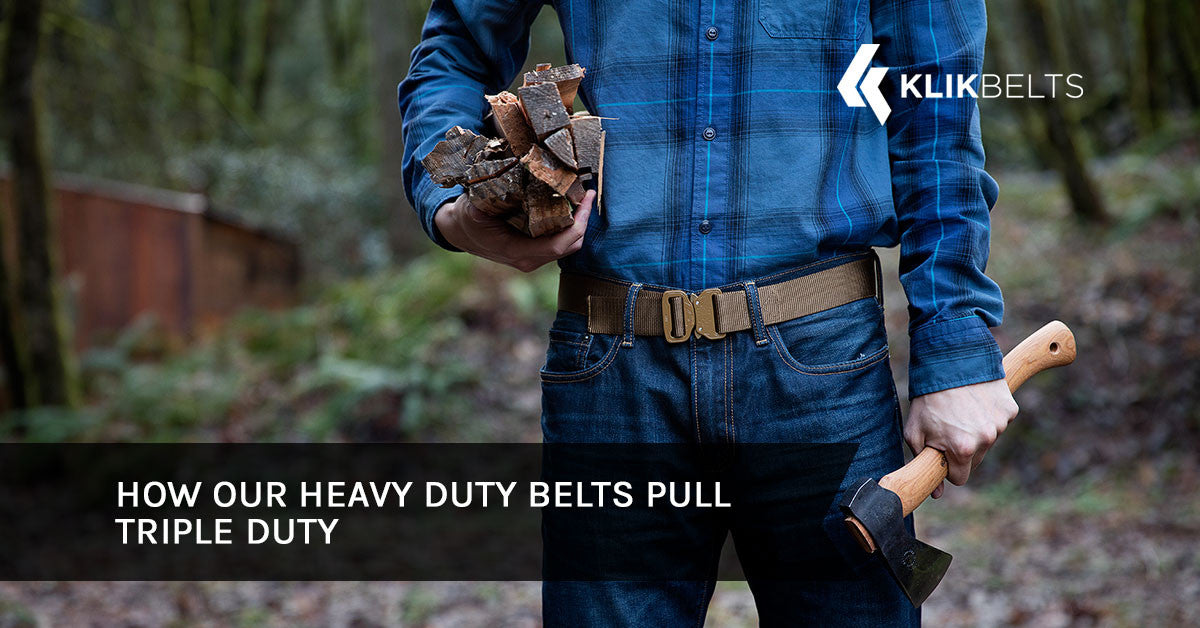 How Our Heavy Duty Belts Pull Triple Duty
Finding cool men's belts can be a challenge and this is especially true if you want to own one belt that does it all. Does such a thing even exist? And if it does, where would you go about looking for it? The challenge is real, friends and neighbors.
If you're in the market for a heavy duty belt, there's a good chance that you think you can only wear it for work. Luckily for you, Klik Belts can pull triple duty. What do we mean by that exactly? Keep reading to find out!
You Can Use Our Heavy Duty Belts For…
A Night on the Town
Because we offer Klik Belts in a number of different colors, you can wear them with just about anything. Heading out for dinner with your significant other? Klik Belts look great with everything from dark denim to chinos and everything in between. No matter what your personal style looks like, we can confidently say that a Klik Belt might be exactly what you need to tie your whole wardrobe together.
Your Next Camping Trip
Luckily for you, if you're looking for a camping belt to take to the mountains next weekend, a Klik Belt will do the job perfectly. If it's tough enough to tow a vehicle, it's tough enough to take on your next big camping trip. Whether that means you rough it in the wilderness with nothing but a sleeping bag or you prefer to take a camper with you, our heavy duty belts won't let you down.
Housework on the Weekend
Perhaps you're a weekend warrior who does everything from patching the drywall on the ceiling to changing out the light fixtures to installing the blinds. Whatever you do during the weekends, you can count on a Klik Belt to have your back (and hold your pants up) every step of the way. No matter what the weekend holds, it's great to have the most comfortable belt around your waist for whatever comes your way.
The Strongest Belt on the Market is Up For Anything
The thing about our heavy duty belts is that we can't find a situation they don't look great in! Whether you need a casual belt for jeans and an oxford on casual Friday or you're looking for the best CCW belt to carry your firearm, a Klik Belt is the ticket.
When you order a Klik Belt, what you get is the belt that can pretty much do it all. Whether your style demands something that's matte black or you want to mix it up with coyote brown or dress things up with olive slate, we have plenty of options to make sure that no matter what your style is like, you'll find that Klik Belts fits the bill every single time.
So what are you waiting for? Our heavy duty belts are built with high quality materials that have been crafted to stand the test of time. No matter what your life looks like, we think a Klik Belt will fit in just fine. Order yours today!