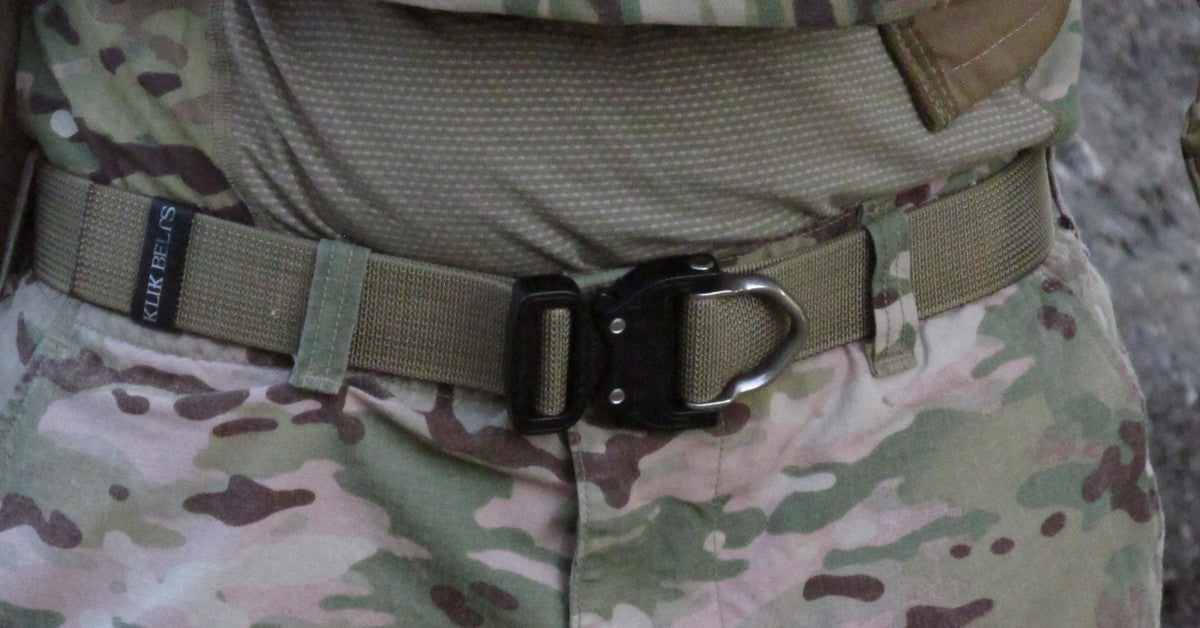 4 Tips for Choosing a Tactical Belt
Are you searching for a new tactical belt? Are you overwhelmed by all the options? At Klik Belts, we understand that it can be difficult to decipher all of the claims made by every belt company about how they are the best. That's why we've put together this list of tips for helping you choose the best tactical belt. 
Read on to learn more, and when you're ready to shop quality American-made tactical belts, choose Klik Belts. 
#1 Choose the Right Style Tactical Belt 
Tactical belt is a rather broad term that can encompass several different styles of belts. Some tactical belts are intended for military and law enforcement use, some for concealed carrying, and others for recreational use. The first thing you should consider is what you'll be using your tactical belt for. 
At Klik Belts, we offer several styles of tactical belts, so there is likely to be one that meets your intended needs.
1.5-Inch, One-Ply Nylon Belt
- This belt is intended for casual use. It is made in a very similar style as our tactical belt. The biggest difference being that it is made from only one-ply of our mil-spec nylon. While our casual belt isn't intended for concealed carrying, it is ideal for those who want a tactical-style belt that provides more adjustability, flexibility, and comfort. 
1.5-Inch, Two-Ply Belt
- Next up on our list is our authentic tactical belt. This belt is made from two plies of our mil-spec nylon, giving it more strength and stability and making it ideal for concealed carrying and military or law enforcement use. 
1.75-Inch, Three-Ply Belt
- We call this belt our duty belt. It's wider than our other nylon belts and has an extra ply, making it the strongest and most rigid belt we offer. This one was requested by law enforcement officers, first responders, and military personnel who needed something wider and stronger to carry large amounts of equipment at their waist. 
TSA-approved Tactical Belt
- Our TSA-approved tactical belt is available in both one and two plies. It features a polymer COBRA® buckle and is ideal for those who travel a lot or work in government buildings with metal detectors at the entrance. 

#2 Order the Correct Size
When purchasing a tactical belt, it's essential that you order the correct size. Since different manufacturers have different standards, it's important to understand how to measure your waist for the tactical belt that you are ordering. 
At Klik Belts, our belts are made to be the same as your men's pant size. It's especially important that you order the correct size when purchasing a two- or three-ply belt as only the tail fits through the belt buckle. We always include a bit extra on the tail for adjustability. However, if you are planning on concealed carrying, you may want to size up one size. You can find detailed instructions and a sizing chart on our Belt Sizing Guide page. 
#3 You Get What You Pay For
If you search the web for tactical belts, you are sure to find an extensive list of choices. You'll find tactical belts for everywhere from $10 to several hundred dollars. Be careful when shopping for a belt on the lower side of that price range. If the manufacturer is only charging $10 for a belt, you can imagine that the price it costs for them to actually make the belt isn't very high. We aren't saying that you should purchase the most expensive belt out there. Just be aware that if you are looking for a quality tactical belt, you should be spending more than the minimum.
That being said, most people do not need to spend several hundred dollars on a tactical belt. At Klik Belts, our tactical belts are all fairly priced. We use only high-quality materials including mil-spec nylon and authentic COBRA® buckles when producing our belts, so you can be sure that you'll always be receiving a belt of top-quality. 
#4 Purchase Your Tactical Belt From Klik Belts
Our last tip for choosing the best tactical belt, is to simply purchase your belt from Klik Belts. We take immense pride in the quality of our belts, use only the best materials, and hand make each one in our Austin facility. When you choose a Klik Belt, you won't be disappointed. 
At Klik Belts, we construct each of our belts from super strong mil-spec nylon and only use authentic COBRA® buckles. We hand-cut, hand-sew, and hand-assemble each belt ensuring to triple-stitch our nylon for added strength and stability. At Klik Belts, you can choose to order one of the tactical belts we have listed on our site.
When you're looking for the best tactical belt, it's time to shop Klik Belts.
Browse our selection
today.