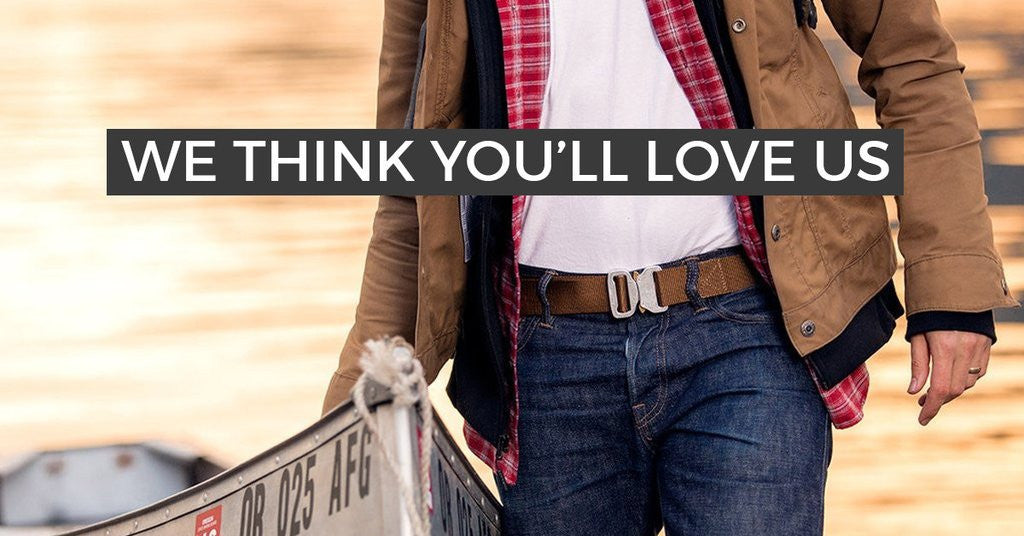 Let's Take a Look at What People Are Saying About Klik Belts
When we say we make the best belts for men that are currently available on the market, that's exactly what we mean. We set out to make a product that was so tough and rugged that it could stand up to anything that was thrown its way. The end result is that it's also one of the best looking belts around.
When people buy Klik Belts online, we're thrilled to get reviews of our products. If you take a look at our Klik Belt reviews, you will probably see that the overwhelming majority of those reviews are positive, having nothing but good things to say about our customer service and the strength and good looks of our materials. Now we're not trying to toot our own horns, but we strongly believe that we've achieved success in making the best belts for men no matter how they're using them.
From construction workers to EMTs to data analysts and everything in between, men from all walks of life use and enjoy our heavy duty belts, finding that no matter what the current task is, they're up for anything. So without further ado, let's take a look at what some of our customers have to say!
"These Are the Best Belts for Men That Money Can Buy"
As we mentioned above, we're absolutely thrilled when we get back a great review of our products. In today's blog, we'll take a look at a few of the highlights that stuck out to us as being particularly helpful.
"I've never had a better belt! Repairing appliances all day has me in awkward positions all day but with this belt my pants stay where they should be." - Anonymous
Great point, Anonymous! After all, what good is a belt if it won't hold your pants up? First and foremost, that's what it's there for. It just happens to be an added benefit that Klik Belts look great and will stand the test of time regardless of how you're using them.
"I own 3 Klik Belts and I couldn't be happier. The belts are second to none. Very sturdy, very comfortable. This color is one of three Klik belts I recently purchased. You will not be disappointed with this product. And customer service is A." - Adrian
We're so glad that you're enjoying your belts, Adrian. And we're thrilled to hear that you appreciate their sturdiness. When we set out to make a great belt, we knew that it needed to be able to stand up to anything but that it should also be comfortable. Thanks for your purchase!
"The 2 ply olive slate Klik Belt quality is as expected -- excellent, looks/fits great, and sturdy. Dale was very responsive in sending the belt tie (tail tamer) that was originally missing and am exceptionally pleased with the new belt. Thank you for this wonderful product!" - John
Thanks for the kind words, John, and sorry about missing that tail tamer at first, but we're happy that you enjoyed your purchase. Speaking of which, we'll always do our best to make it right if there's a mistake on our end.
Order one of the Best Belts for Men Today!
If you've been considering ordering a Klik Belt, now is the time. Simply pick the style you prefer, place your order, and then we'll get it on its way to you as soon as possible. It's as simple as that!