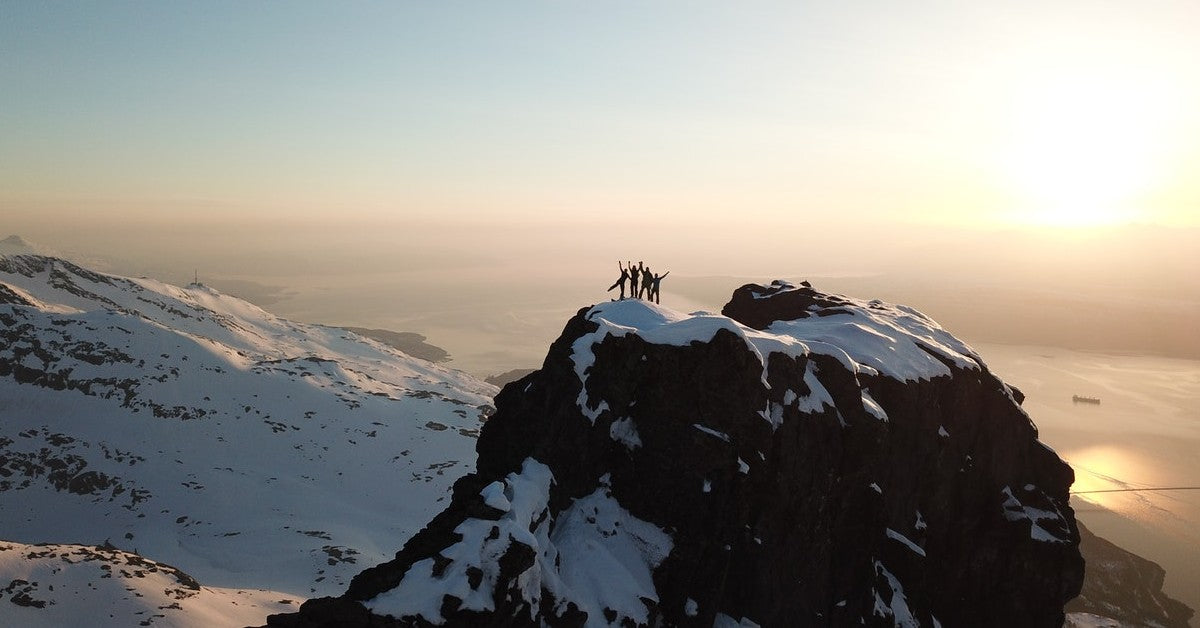 The Top 3 Tips on How to Climb Mountains with TSA-Compliant Klik Belts
Klik Belts, a belt company that makes the strongest, most durable belts that are TSA-compliant, has been offering up valuable tips on how to climb a mountain with TSA-compliant Klik Belts. In our concluding blog, we'll sum up how to climb a mountain with a TSA-compliant belt. Visit us online today, and order our 1.5" Black Poly 2-Ply TSA-Approved Belt today!
TOP 3 TIPS WHEN CLIMBING A MOUNTAIN
Climb the Mountain!
This is the moment you've been waiting for! You've done all of your preparations. You are in top physical shape. You've researched the mountain you are climbing. You've learned the mountain's unique weather patterns. You've practiced in climbing gyms and on easy mountains with some experienced climbers. And you've gotten all of the gear, including your TSA-compliant belt from Klik Belts. You've packed your bag the night ahead of time and gotten a good night's sleep. And now, the day has dawned, and you're heading up your first mountain!
Most mountain climbs begin very early in the morning in order to ensure you have time to make it to the summit and then back down again or to make it to your camping spot. You eat a hearty breakfast and meet your fellow climbers at the base. Now it's time to begin! Here are some general tips to do right before you begin your ascent:
Check your backpack. Your backpack, along with your other climbing gear, such as your TSA-compliant Klik belt, contains everything you need to be safe and in case of an emergency while climbing the mountain. Make sure you have adequate fresh water, food, a pocket knife, rope, extra clothing and rain gear, a compass, your map, and a satellite phone if you so desired. 
Designate a leader. When you are climbing a mountain, there is usually a designated leader who decides the route and takes responsibility for leading you up the mountain. This is usually the most experienced climber in the group. As the leader, you are to follow exactly what he or she says at all times and be respectful. After all, this person is most likely taking you under his or her wing.
Stick to your planned route. Changing your route halfway up the mountain is not usually a good idea unless there is some unforeseen hindrance, such as a rock slide, blocking your route. This only leads to confusion if you change.
Listen to your body. As your first mountain climb, you won't know exactly what to expect. You'll probably need to take frequent drinks, hydrate, and periodically snack along the way. It's easy to get dehydrated, especially in the cold, because your body may not be sending you the signal it is thirsty.
Stay with your group. It's never a good idea to go off by yourself when you are climbing a mountain, even when you are experienced.
Take lots of pictures at the summit! This is the moment you've been waiting for: the summit! Enjoy your accomplishment, and take pride in your achievement.
Be careful on the descent. Most mountain climbing accidents take place on the descent. This is because you are in a hurry to get back down, and because going down a mountain can be harder than going up. Stay focused, watch your footholds, and stay roped if you are using a rope. It's when you become unvigilant that accidents happen.
Never Stop Improving
As Klik Belts has mentioned before, one of the most attractive things about climbing mountains is the constant challenges you face. Once you get the basics down with mountain climbing, you will be ready to tackle more challenges. Some include glaciated peak mountains that require very technical gear and skills. Volcanoes are often the next best step after your beginning mountain climbing skills are solidified. Mountains such as Mt. Blank or Mt. Rainier are great to beef up your mountain climbing skills on. Expedition peaks are great practice as well and offer the challenge of walking in and of climbing rocks.
Hopefully, you will have made some great connections through the mountain climbing club you joined. You can join some group climbs the club offers, or ask a friend to tag along on their next easier mountain climb. There is so much you can learn from others, while having fun at the same time.
Have Fun!
The whole reason you began to climb mountains is to have fun. You have to enjoy the journey along the way in order to enjoy the victory. You've probably made new friends and done things you never thought you'd do. Take pride in your accomplishments, plan your next adventure, and have fun!
WHY CHOOSE TSA-COMPLIANT BELTS FOR MOUNTAIN CLIMBING
If you are flying to climb mountains, a TSA-compliant belt from Klik Belts will save you time at airport security. You won't have to take off your belt since the belt buckle is made of the best polymers that are non-metal. You'll have a belt that is strong enough to hold your mountain tools, from hatchets to knives. Our TSA-compliant belts are made from 2-ply webbing that will be strong and durable, but also can be used for cordage, as a tourniquet, or as a rope in a pinch. You can even use this airport-friendly belt to make a spear.
In the end, you'll need a top-notch belt to climb mountains, and Klik Belts offers the best outdoor belts, heavy duty belts, tactical belts, and TSA-compliant belts. Browse our selection online today!