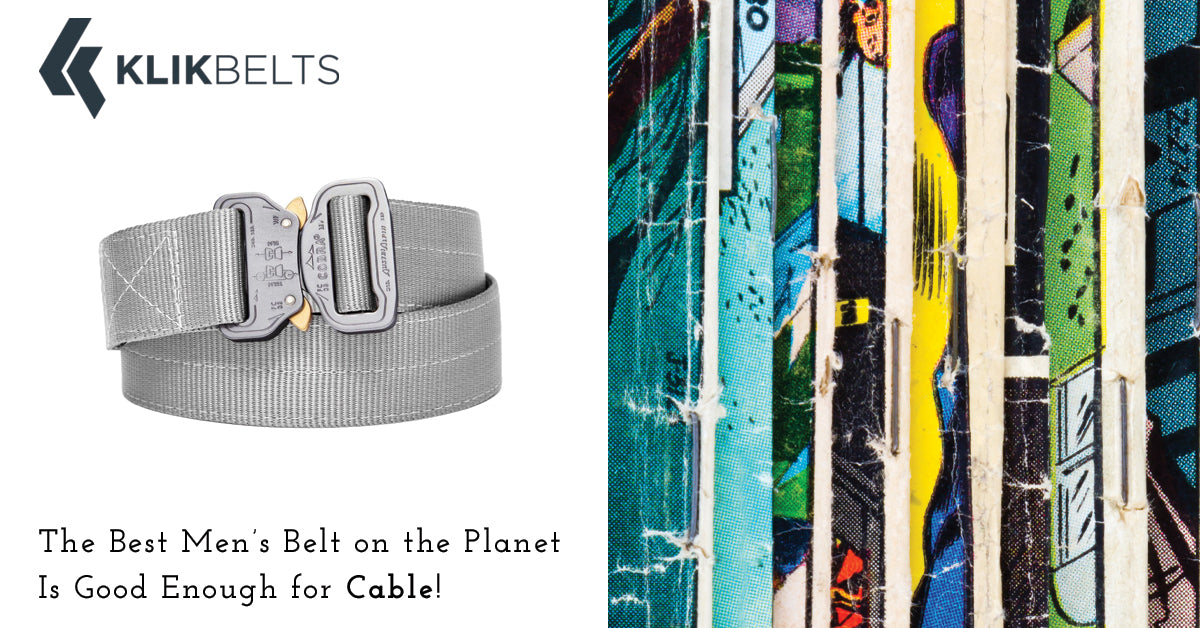 The Best Men's Belt on the Planet is Good Enough for Cable
You could officially say that pretty much everyone on the planet has seen Deadpool at this point. Wikipedia sums it up pretty nicely by saying that the film "became both a financial and critical success: it earned over $783 million, breaking numerous records and becoming the overall highest-grossing R-rated film, the highest grossing X-Men film, and the ninth-highest-grossing film of 2016." If you haven't seen this movie yet and you don't mind some potentially offensive humor, you're in for a real treat.
But what does all of this have to do with the best men's belts on the planet, you ask? Great question! If you head on over to our Instagram account, you'll see a photo of Josh Brolin wearing a Klik Belt. "But Josh Brolin wasn't in Deadpool," you might be thinking. You're right about that, but he will be featured as Cable when Deadpool 2 comes out in late June of next year!
Who Is Cable?
If you're into the X-Men franchise, you might already be familiar with Cable. He made a few appearances in X-Men: The Animated Series in the 1990s, but avid comic book readers will know him from his first appearance in The New Mutants #87 which came out in March of 1990. Once again, Wikipedia notes that Cable is "the biological son of the X-Man Cyclops (Scott Summers) and Madelyne Pryor (Jean Grey's clone)" which might sound a little confusing.
While we haven't been fortunate enough to be on set or anything like that, we can safely say that even if you don't know the full backstory for Cable, the movie will likely still be an enjoyable ride that combines action and humor perfectly.
How Does He Fit Into Deadpool's Story?
With a budget of only $58 million, Deadpool became a massive success immediately upon opening and received very positive reviews. As a matter of fact, the film is currently sitting at an 84% fresh rating on Rotten Tomatoes and many find the film to be an enjoyable and refreshing take on the superhero genre by both working from in its established framework by also not taking itself too seriously.
Other attention has been given to the fact that the film remains incredibly true to the vision of the original comic book series and many feel that Ryan Reynolds was the perfect choice for an actor to portray the character of Deadpool.
But how exactly does Cable end up in a story about Deadpool? In 2004, Marvel published a comic book series entitled Cable & Deadpool that brings the two characters together. Critical reception to this series was incredibly positive and many enjoyed seeing the characters side by side.
What role will Cable play in the sequel to last year's hit? That remains to be seen, but one thing is for certain--part two is shaping up to be quite the movie! It has a lot to live up to, sure, but the teasers that have been released thus far as well as publicity shots and online rumors certainly have us feeling excited to see it.
Why Does Cable Need the Best Men's Belt?
Of course someone like Cable needs the best men's belt on the planet. He has, after all, "fought Wolverine to a stalemate, defeated Captain America in hand-to-hand combat, and defeated Falcon, Red Hulk, and Iron Man using both brute force and wit, all while [he] was in severe pain and hours away from dying of his techno-organic infection." Sounds like a pretty good candidate for a heavy duty belt to us.
Will the film version of Cable be a time travelling, telekinetic, telepathic cybernetic super soldier? If the information we have so far is accurate, then that's probably what we can expect. If you're interested on reading up further on Cable before Deadpool 2 comes out next June, Marvel's website is the perfect place to do just that. You can dig a bit deeper regarding his known relatives, group affiliations, education, physical attributes, powers, abilities, and commonly used accessories.
It's anyone's guess what the film version of Cable will be like, but it's safe to say that thanks to the success of the first movie, the overwhelming positivity of star Ryan Reynolds about the project, and the always incredible acting abilities of Josh Brolin, Deadpool 2 is going to be a pretty wild ride.
Order Your Own Heavy Duty Belt Today
With a 4.9 average rating on Facebook and countless positive reviews elsewhere around the web, we can confidently say that we're making the best men's belts available anywhere. We strive to create a product that's been built to last. We believe in the saying that you should "buy it nice or buy it twice" and we've taken that to heart. The end result is a product so over designed that it's been built to last a lifetime.
Take a look at what others have to say about Klik Belts and then browse our entire collection of heavy duty belts. Whether you're wearing yours for a night out on the town, with your uniform while you're on the job, or even on a camping trip in the middle of nowhere, you can rest assured that your Klik Belt won't let you down. It's as simple as that.
Have a question? Need help deciding which belt is right for you? Give us a call at 888-757-5545 or contact us online. We look forward to hearing from you!