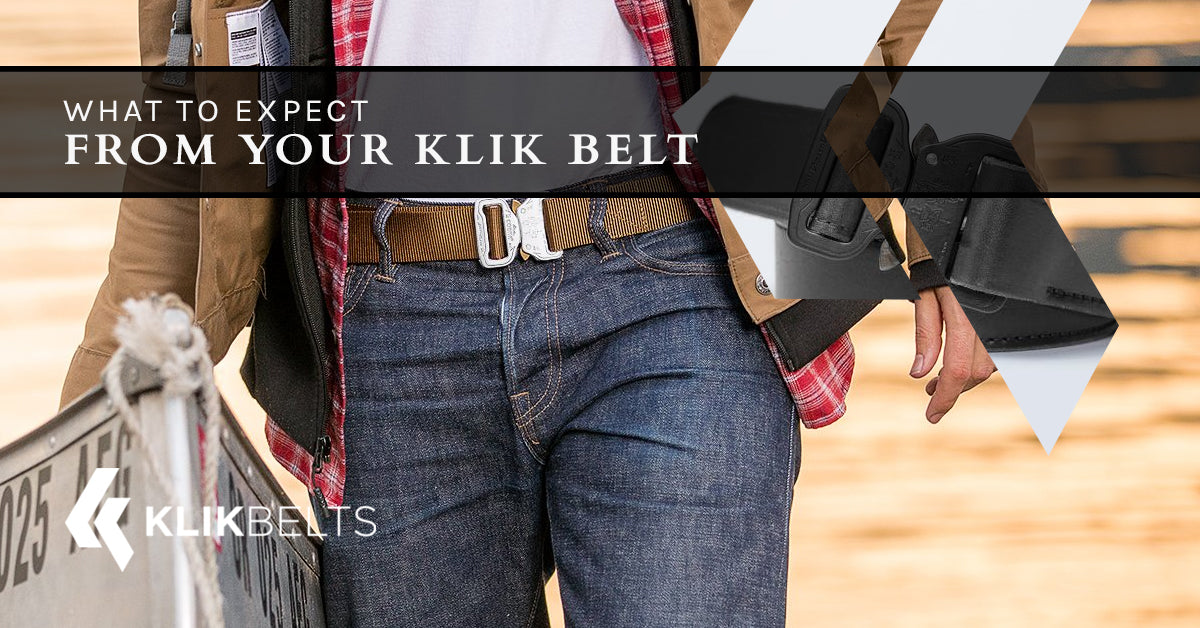 What To Expect From Your Klik Belt
As the makers of the best men's belts on the planet, we've subjected our products to a number of different torture tests over the years. At the end of the day, we simply want to know how our products will perform under stress. We strive to make a product that is top notch and we are dedicated to providing our customers with a belt that will stand the test of time. By using the highest possible quality of materials, we are able to make a belt the likes of which the world has never seen before.
Add in the fact that you can choose the color of your buckle and your belt and get something that perfectly suits your lifestyle and it's pretty much a guarantee that this is the last belt you'll ever have to buy. We're big fans of items that are made to last a lifetime and we think that our grandfathers had it right when they told us to "buy it nice or buy it twice." If you're inclined to agree with that sentiment, then we believe that Klik Belts are the way to go every single time.
So What Makes It Special?
We certainly won't deny that there's a market for leather belts out there. They often look great and they have certainly been used widely for many, many years. Inevitably, however, they break down. For all of the positives of leather, there are a handful of negatives as well.
For one, leather stretches out over time. Let's say you're a size 34 waist. Generally, you purchase a belt a few inches larger than your true waist size. In this instance, you'd probably get a size 36 so you can fasten the belt utilizing the middle hole. That's all well and good--until it isn't.
You see, over time, your belt will stretch a great deal. Your natural movements will start to break down the leather and cause it to bend and warp. That means that where you were once using the middle hole in your belt, now you're using a different hole and your belt looks much bigger than it once did.
Or assume for a second that you and your family are on a big health kick. You start eating good foods, going on nightly walks, and making it a point to work out on a daily basis. Even if your belt doesn't stretch, it's not going to work out quite as well now that you've dropped a few pounds. That means buying a new belt and letting your old one go to waste (or hoping you have a friend who can use it).
Klik Belts Are Different
When we say we make the best men's belts on the planet, that's not a phrase that we're just using lightly. We genuinely believe that Klik Belts solve some of the more common problems that people have with belts. For instance, your Klik Belt is designed with high quality nylon webbing that won't stretch. That means you can wear it confidently and do a number of different activities in it without worrying about it.
It also means that if you shed some weight, you don't have to get a new belt. Instead, simply cut a bit of length off of your Klik Belt and keep using it for years and years to come. Everything that would render other belts useless is solved when you use a Klik Belt.
A Word About the Cobra Buckles
At the heart of every Klk Belt is Cobra buckle. Chances are that you've heard of those before, but if not, let us help to get you in the loop. You can learn more about our recent trip to the Cobra factory right here, but the gist of it is that science, precision engineering, and attention to detail are at the forefront of each buckle's production.
In other words, this isn't a cheap Chinese made buckle that's going to buckle--pardon the pun--under the weight of your everyday requirements. Instead, it's built to last. Designed to be the world's strongest buckle, Cobras are made to stand the test of time and do it valiantly. If you're the type of person who cares about long term durability and getting the most bang for your buck, you're going to love Cobra buckles.
Order Your Klik Belt Today
Regardless of what you are looking for in a belt, chances are that you'll find something to love here on our website. Choose from a number of different color combinations and order confidently, knowing full well that you'll be getting the best of the best. We strive to put together an heirloom quality piece that you can hand down to your kids some day knowing that they too will get plenty of use out of their new (old) belts. It's as simple as that!
So go ahead and take a look at our full collection of Klik Belts and choose the one that works best for you, then place your order knowing that you'll be getting the best of the best. We ship all of our belts the same day your order is placed as often as we can and general shipping times are at about three to five business days so you can start putting your belt to good use in under a week in most instances. Order yours today and be sure to leave us a review! We'd love to hear what you think about your new belt.