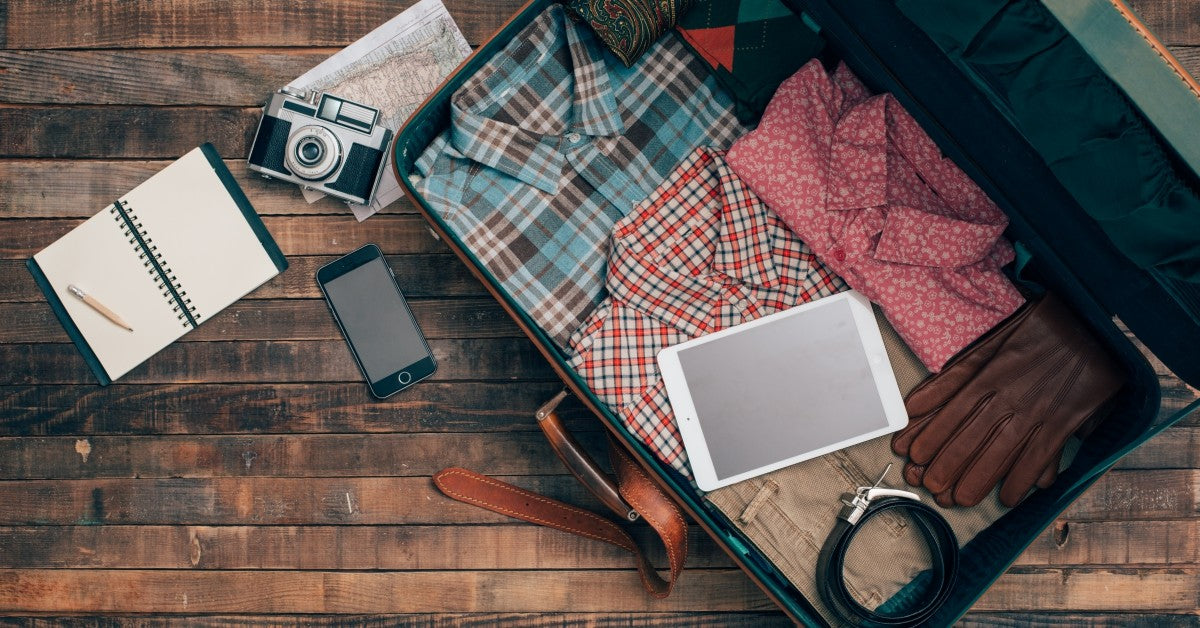 Never Forget These 7 Essential Travel Items (Including Your TSA-Compliant Belt!)
It's 5:57 am. You've overslept, and now you're running late for your flight. It doesn't help that you were feeling exhausted the night before, and failed to properly pack your bag. Now, you're forced to hastily throw all of your clothing and other items in your suitcase, yell at the coffee maker to finish brewing, and take a 30-second shower before catching your shuttle to the airport. 
Does this situation sound all-too-familiar? We hope not, but even the most seasoned travelers and frequent flyers fail to adequately prepare for their trip. Of course, we all sleep through our alarms at least once and a while too, so every single start to your trip can't always be perfect! 
How Can The World's Strongest
TSA-Compliant Belt
Help Me?
In truth, our no-metal travel belt isn't going to magically pack your bag at night, wake you up in the morning, and get you to the airport on-time. What this special belt will do, however, is save you just a bit of hassle while you're in the airport security line. Instead of being forced to take off your belt due to the metal buckle, you can enjoy the convenience of keeping it on. 
How? Our polymer belts are exactly that: polymer, so there's zero metal in the buckle or the strap. Now, you can finally enjoy the all-day comfort that Klik Belts are known for, all without having to take it off at a TSA security checkpoint! 
To help out you frequent travelers out there, the team at Klik Belts is going to cover seven essential travel items that you shouldn't leave your house without. Keep reading below to learn more! 
7 Items You Shouldn't Forget When You Travel
#1: Noise-Canceling Headphones
Frequent flyers know the value of noise-canceling headphones, and they also know the pain of paying airport prices when they forget their noise-canceling headphones. From tuning out the droll of crying babies and turbulence to chatty neighbors, you'll get more sleep or more work done on your trip with a pair of good quality noise-canceling headphones. 
#2: Chargers
Your smartphone, laptop, tablet, or other device of choice is essentially useless without a charger. You don't want to be bum at the airport by stealing juice from other people's chargers, and while you could purchase an additional charger during your trip, save yourself from cash and remember to pack these valuable items. 
#3: Identification
We'll touch on having your ID (and other everyday carry items) below, but having a way to prove your identity is so important that it deserves its own mention. You won't be able to get past airport security (and get to utilize that sweet TSA-compliant belt!) without a government-issued and government-approved form of ID, so make sure you have it ready and on your person when you're going through a TSA checkpoint. 
For international travelers: don't forget your passport in addition to your driver's license!
#4: A Towel
Regardless of where you're staying and how generous their amenities are, it's always a great idea to at least bring a small-to-medium-sized towel with you. Perhaps you'll spill something, sweat up a storm, or you'll meet someone who's in desperate need of a towel. We're really not sure why you'll need one, but we're confident that, at some point or another, you'll wish you had a towel at your disposal. 
Think back to what Towelie from South Park said: "Don't forget to bring a towel!"
#5: A Protein Bar (Or Other Nutritious and Convenient Snacks)
If only you got hungry as you began to make a meal or place your order instead of waiting in a long line or hustling to catch your connecting flight. Indeed, hunger tends to strike at the worst 
of times and you'll want to make sure that you have at least a few emergency protein bars on hand (or an equivalent, healthy snack) to munch on as you're traveling. 
Trust us, the feeling of waiting in line for sub-par fast food at an airport while wondering if you're going to make it in time for your connecting flight is not a good feeling. 
#6: The Confidence Of Confirmed Reservations
Yes, this isn't a tangible item, per se. But knowing exactly where you're going and how you're going to get there is a thing of beauty, especially if you're the type of person who checks five separate times to see if the garage door made it all the way down. 
In any situation, it's always important to confirm your reservation and make sure that your ride, rental car, hotel, Airbnb, restaurant reservation, appointment, or other scheduled commitment is, in fact, valid. Travel is stressful enough as it is, so why add additional stress by failing to confirm your itinerary?
#7: Your EDC
Okay, maybe this isn't one item, but we're grouping your everyday carry items into one item for the sake of this list. Our belts are the perfect EDC belt, so it only makes sense to remind you of the items you don't want to forget when you're leaving the house to do just about anything: your phone, wallet (with ID), a moderate amount of cash or other forms of payment, keys, lip balm, sunglasses, pocket knife, or whatever else it is that you like having on your person. 
Shop Klik Belts For The Market's Best TSA-Approved Belt!
Remember, when it comes to the quality, strength, durability, versatility, comfort, and value of belts, there's only one company that delivers: Klik Belts! Enjoy your travels and shop today.