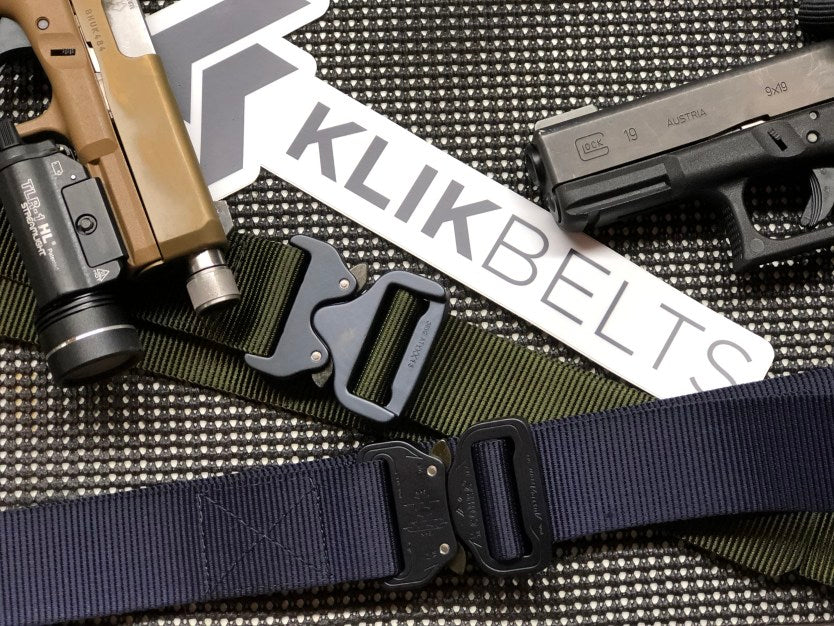 The Origin of a Klik Belt
Klik Belts makes the best tactical belt for men and women with fast, secure COBRAⓇ buckles paired with mil-spec nylon. Our genuine AustriAlpin aluminum COBRAⓇ buckles are the strongest on the market, yet are lightweight and easy to use.
But where do all of these components come from? Where are Klik Belts made? Where are they assembled? This is a question we field regularly, as so many tactical, duty, and everyday carry belts on the market come from overseas and are often cheaply made. Not so with Klik Belts.
Handcrafted in the United States
We handcraft each one of our belts at our Klik Belts facility located in Austin, Texas. This allows us to oversee the production process -- all cutting, sewing, assembling, and packaging -- ensuring that each one of our belts is upheld to the highest standards. It also allows us to provide jobs to our local community. At Klik Belts, we take immense pride in creating belts that our customers have come to know and love. We never compromise quality for cost and we always take the time to ensure that each and every belt is built to last. We know you'll love wearing our belts as much as we love making them.
The COBRA® Buckle
The famous quick-release, load-bearing COBRA® buckle was developed in the Austrian Alps by mountaineering experts AustriAlpin. Each COBRA® buckle is still manufactured in Austria from 7075 aluminum. The aerospace industry has been using this workhorse material since 1943 for everything from commercial planes to fighter jets to space travel. Pound-for-pound it's one of the strongest metals available.
At Klik Belts, we knew that if we wanted to make the world's strongest belt, we would need the world's strongest buckle. That's why each one of our tactical belts is equipped with an authentic COBRA® buckle made by AustriAlpin.
Mil-Spec Nylon Webbing
Klik Belts' mil-spec nylon webbing comes from a major nylon webbing supplier to the U.S. military. This U.S.-based company owns their manufacturing facilities in the U.S. and in Taiwan. 
Constructing Klik Belts from the best mil-spec nylon webbing available llends to the belt's strength and stability. At the same time, our nylon is still flexible enough that our belts are incredibly comfortable to wear. We make belts in one-ply, two-ply, and a three-ply option so whether you are searching for something for casual wear, everyday carry, or for tactical/competition/duty use, we have a Klik Belt that is perfect for you.
The World's Strongest Belt
At Klik Belts, we are dedicated to providing our customers with a superior product. We didn't want to make just any ordinary tactical belt. Instead, we wanted to make our belt special. We did this by ensuring that we utilize only the best materials and handcraft each belt right here in the U.S. of A. 
The result is the world's strongest belt. Our belts are designed to withstand 18kN of force on a straight pull. That's a little over 4,000 pounds! We wanted to provide our customers with peace of mind that their belt can stand up to almost anything. Whether you climb mountains in your spare time or work in the military, you can rest assured that your Klik Belt will be there when you need it. 
Ready to see the world's strongest belt in action? Watch the video below of us lifting a car with a Klik Belt! You'll see why Klik Belts are worn by law enforcement officers, military personnel, EMS, and others who require a belt that can be relied upon in any situation.
Shop the Klik Belts collection
HERE