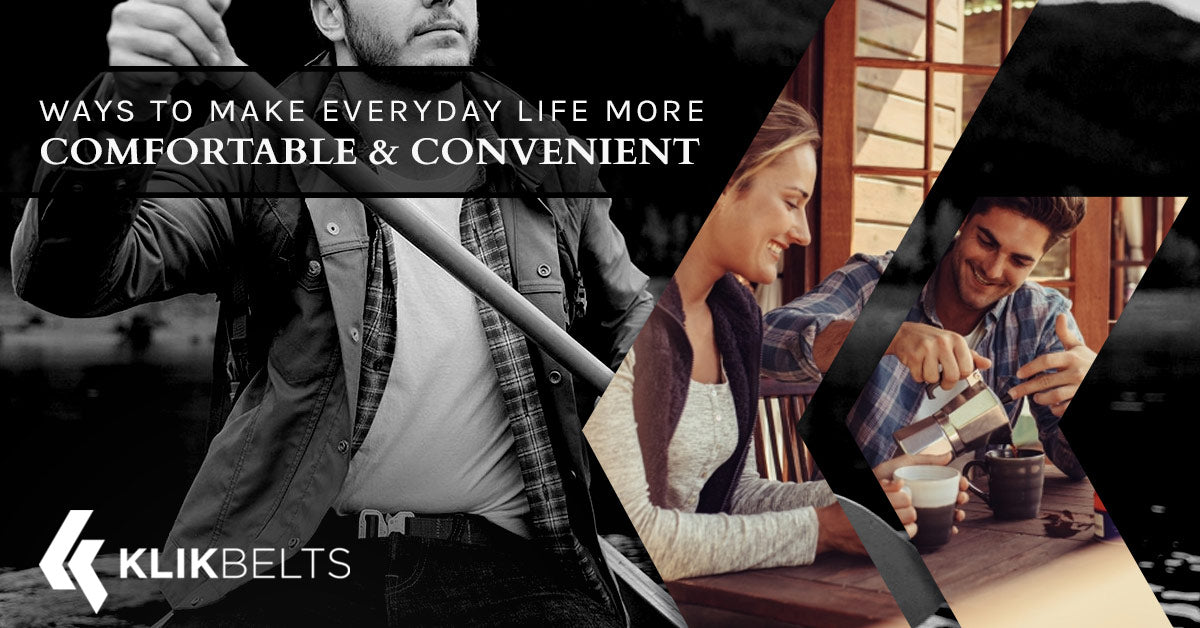 Ways To Make Everyday Life More Comfortable And Convenient
Life shouldn't feel like your Monday morning alarm clock. Most people don't want to get up and face the day's responsibilities knowing that laying their head back down on the pillow will feel much better. To those who wake up with a genuine desire to tackle the day head-on, we salute you.
Perhaps those who excitedly spring out of bed each morning do so because they already know that they're going to have a fantastic day. Maybe they own some daily use items that are designed to make life just a little bit easier and a little bit better, adding up to make a noticeable difference. Maybe — and hear us out on this one — they own the world's most comfortable belt from us here at Klik Belts. Maybe you saw that one coming.
Start Your Day With The Most Comfortable Belt Online
Needless to say, everyone could appreciate a few ways to improve daily life without making any fundamental changes to their schedule, routine, or personality. At the end (and the beginning) of the day, we're all creatures of habit and comfort, so why not make a few tweaks here and there to cater to this?
By dawning the most comfortable belt you'll ever wear (seriously, read what people have been saying about our belts online), you're adding a both a convenient and a comfortable dynamic to your day. It's hard to beat a daily improvement that's so simple!
Let's get started.
Stow Away Excess Clutter
While some people are just fine with a messy and junk-ridden home, others cringe at the sight of a misplaced cup or clothes on the floor. If you have a number of items out in your bedroom or common areas that are just sitting there taking up space, ask yourself: How often do I use this stuff? Do I utilize any of these items on a daily or even weekly basis? Reducing clutter will de-stress your mind and make your home space more inviting...the way that it should be.
Replace That Clutter With Fresh Flowers
Want to get some kudo points from the spouse? Is your home starting to smell a little funky? Fresh flowers serve as a thoughtful gesture and will surely spruce up your kitchen table or living room thanks to their pleasant odor. Even throwing a cheap bushel of flowers from your local grocery store florist into a mason jar will look nice and invoke positive, happy feelings.
Have A Fireplace? Use It!
There's something simply mesmerizing about staring into a fire. If you're fortunate enough to have a fireplace at home, use it in place of your home's central heating. Traditional log-burning fireplaces only use as much energy as it requires for you to chop some wood (okay, maybe you just purchased a bundle of firewood at the grocery store). This makes using your fireplace a great money-saving hack, and better yet, you'll still be warm and comfortable during the colder seasons. Even if your fireplace is gas-powered, you'll still save money on your energy bills compared to sending hot air to every room in your home.
Embrace The Power Of Good Smells
Our senses have a way of temporarily overcoming our current attitude or thought processes, often to the point where we'll get moved away by a certain aroma and forget what we were even doing in the first place. Stressful day at work? At least it smells good immediately right after you open your front door.
Essential oil diffusers, candles, and incense sticks are effective ways to make an area of your home (or workplace!) smell good and evoke positive feelings.
Use A Slow Cooker To Make Some Of Your Meals
Saving time, money, and creating good smells throughout your home: that's a true win/win/win! Whether you're a bachelor or a busy parental couple with no time during the day to cook, simply let your slow cooker do the work for you while you're at work. There's nothing quite like coming home to a roast that just needs a couple stirs. Better yet, you'll be immediately greeted by a warm, savory aroma that melts away the stresses of your day.
Dress Comfortably And Lay Out Your Outfit For The Next Day
You shouldn't have to waste valuable time during your morning routine trying to figure out what you're doing to wear for the day. Taking a couple minutes to bundle together a shirt, pants, shoes, and socks combination means that you'll probably save triple the amount of time in the morning when your brain isn't quite firing on all cylinders.
Remember that you can look sharp but also feel comfortable at the same time: the world's most comfortable belts here at Klik Belts are the epitome of this, but dress shoe inserts like Dr. Scholls or flex fabrics used in performance clothing also ensure that you'll feel comfortable from day's start to day's end.
We Have The Perfect Belt For You — Shop Today!
With precise adjustment capabilities and constant comfort in mind, we're confident that you simply won't find another belt online that's as nice (and easy) to wear as a Klik Belt. Backed by COBRA® buckle technology, all you have to do is "click" it and you're good to go!
Whether you need a reliable belt that can withstand the weight of a holster or one that embraces the world of fashion and function, look no further than the most comfortable belts you'll ever come across.