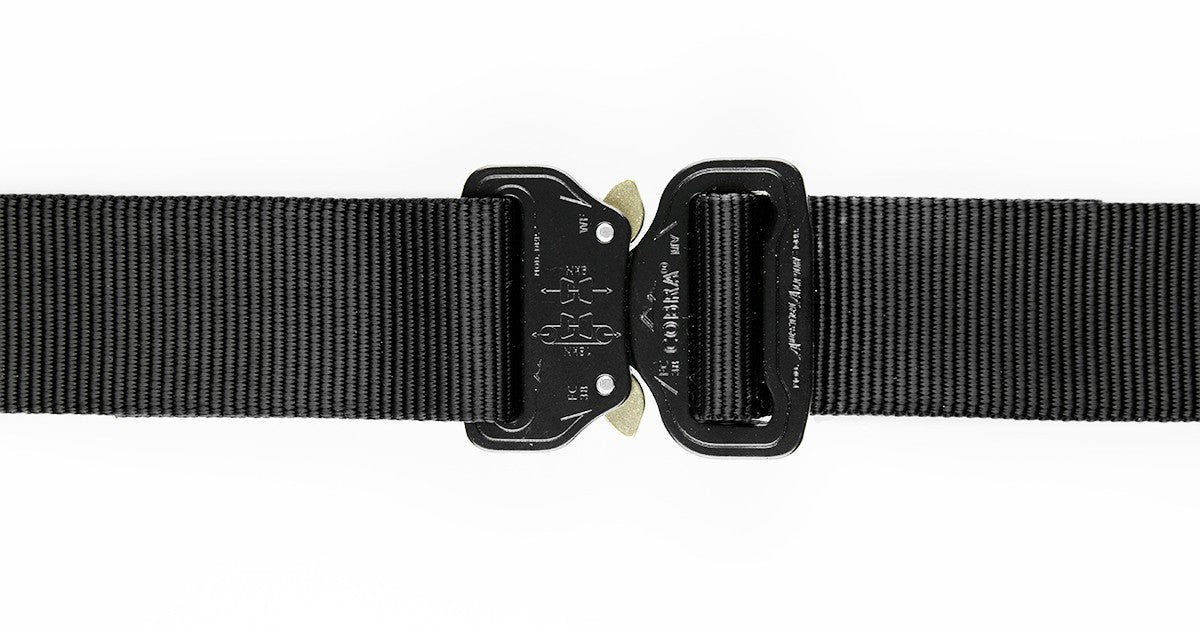 What Makes the Cobra® Buckle a Superior Belt Buckle
Cobra® buckles are known for their strength and reliability. They are often used in cargo straps, parachuting, and in military applications because of their toughness. At Klik Belts, we use Cobra® buckles on our belts because we wanted to provide our customers with the strongest and most durable belt on the market, and in order to do this, we needed to use the best materials. 
When you purchase a Klik Belt with an authentic Cobra® buckle, you can be sure that you are receiving one of the strongest belts on the planet. Order your tactical belt today from Klik Belts. We offer one-ply, two-ply, and wide duty three-ply for when you need the added strength and stability. 
What Is a Cobra® Buckle?
A Cobra® buckle is an extremely strong and durable load-bearing buckle. Cobra® buckles are patented, so authentic Cobra® buckles must be made by the company AustriAlpin located in Austria. This company specializes in premium quality PPE safety hardware. They make products for the military, law enforcement, industrial applications, and much more. They have a dedication to creating a superior product and refuse to take shortcuts to save a dollar. Whether they are manufacturing their Cobra® buckle or any of their other products, they put safety at the forefront.
A Cobra® buckle is made to withstand anywhere from 2,000 to 11,000 pounds of load-bearing weight depending upon the model. When we talk about a strong buckle, you really can't beat the Cobra®. That's why we use a Cobra® buckle on each one of our Klik Belts. 
Why Choose a Cobra® Buckle for a Belt Buckle?
It seems like a Cobra® buckle may not be necessary when choosing a buckle for a belt, but when you're an EMT that needs to carry life-saving equipment or military personnel that need to be able to protect yourself and the person next to you, extra strength is a must. At Klik Belts, we use the Cobra® buckle on all of our tactical belts because we didn't want to skimp when it came to quality or safety. 
Strong Enough to Carry Equipment
One of the most important things in a tactical, military, or gun belt is that it is strong enough to carry a pistol and other equipment. The Cobra® buckle is designed to stand up to quite literally tons of load-bearing weight, so you can be sure that it can easily hold your pistol, radio, and any other equipment you choose to carry at your waist. 
Klik Belts are often chosen as military, tactical, and gun belts because of their strength and durability. While we take care in creating every part of our belts, the strength and quality that we provide would not be possible without the Cobra® buckle. There may be many other buckles that look like Cobras®, but they don't provide the strength, toughness, and durability of an authentic Cobra® buckle. 
Quick Release for Safety
Cobra® buckles are extremely strong and part of what lends to that strength is the quick release feature. Cobra® buckles can be easily released by the wearer or user, however, they absolutely will not release on their own. If you are using a Cobra® buckle to hold a large amount of equipment on your waist or in any other application, the last thing you want is for the buckle to become unclipped. Cobra® buckles are all tested to be secure at extreme load-bearing weights so that you never have to worry about it unclipping at an inopportune or dangerous time. 
Uses of Cobra® Buckles
Cobra® buckles can be used in a number of applications including military belts, parachutes, mountaineering, and for cargo straps. When you need to be absolutely sure that you have a buckle that can hold a lot of weight and is completely reliable, a Cobra® is the only choice. 
Military/Tactical Belts
At Klik Belts, we use Cobra® buckles on every single one of our belts. We wanted to make sure that we were offering the best in tactical belts, whether the user was looking for something to conceal carry, wear for rugged outdoor activities, or for use at work. When you choose a Klik Belt, you can rest assured that you are choosing one of the strongest, most durable belts available because every one is equipped with a Cobra® buckle. 
Parachutes
When you are soaring through the air, you'd better have a buckle that you can trust, and that is why many parachuters choose Cobra® buckles for safety. 
Mountaineering
Climbing a mountain is dangerous work and you want to ensure that your equipment is strong enough and reliable so that you will safely make it to the top. Many mountaineers trust Cobra® buckles to safely get them to the peak. 
Cargo Straps
Cobra® buckles are often used to hold in cargo straps when large loads need to be held in place safely and securely. Cobra® buckles are renowned for their reliability and strength.
Choose a Belt With a Cobra® Buckle
Cobra® buckles cannot be beat when it comes to safety, strength, and reliability. If you are searching for a tactical belt, military belt, or gun belt, that is as strong as they come, look no further than the Klik Belt. Each of our Klik Belts is equipped with a Cobra® buckle so you can be sure that our belts will get the job done every time. You'll never have to worry about the buckle becoming unclipped from too much weight on your belt. Shop our
one-ply
,
two-ply
, and
three-ply Klik Belts
today.