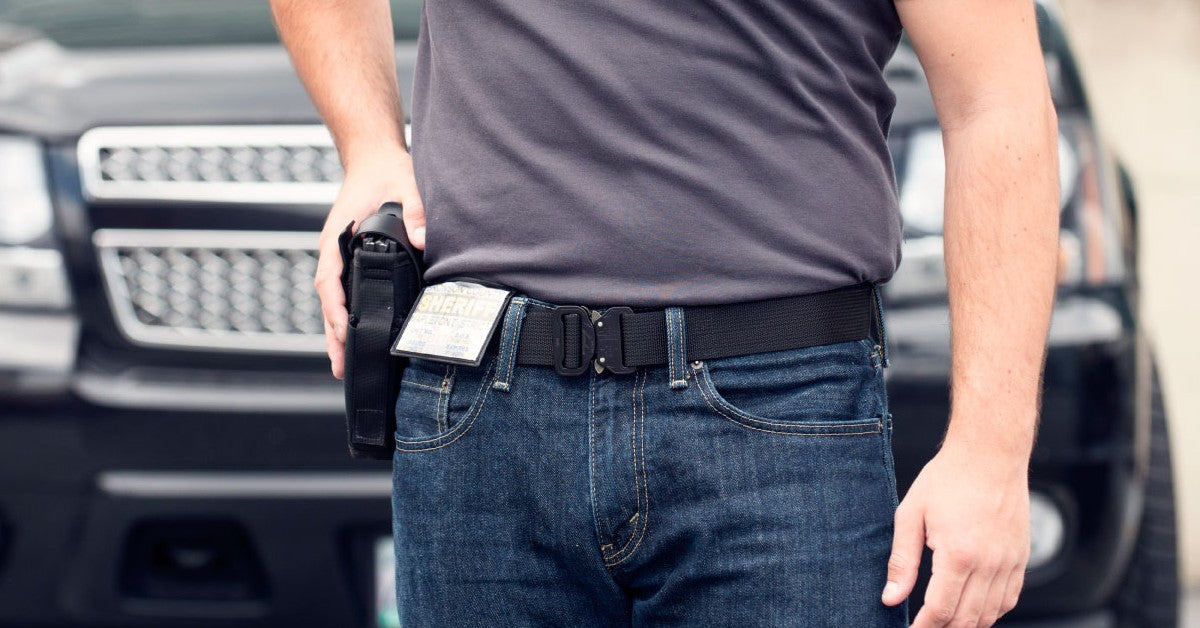 How to Choose the Best Gun Belt
Choosing the best belt for concealed carry requires careful consideration. You want to ensure that you choose a gun belt that is made from high-quality materials and is strong enough to hold up your gun as well as your pants. You also want a belt that is comfortable and stylish enough to wear out or to the office, depending on your particular needs.
At Klik Belts, we offer tough nylon belts and leather gun belts that will comfortably support both your pants and your gun. We use only the highest quality materials and pay attention to even the smallest details when we are creating our belts. If you're ready to order the best gun belt, shop the two-ply, three-ply, and leather gun belts at Klik Belts. 
Made from High-Quality Materials
A gun belt for concealed carry needs to be made from high-quality materials so that it will not stretch or warp over time, and so you know it has enough strength to hold the weight of a gun. While most pistols that you'll wear at your waist don't weigh more than a few pounds, that can still cause your belt and pants to sag on one side if you don't have a high-quality gun belt. 
The belts at Klik Belts are made from tough nylon and come in several thickness options to provide you with the exact weight that you need. We offer high-quality leather gun belts as well. Each Klik Belt is equipped with an authentic Cobra® belt buckle for added strength and toughness.  When you choose a Klik Belt for your gun belt, you can rest assured that your gun will stay in place. 
Supports Your Gun and Your Pants
The first purpose of a belt is to hold up your pants, so it's important that your gun belt does this. In addition to supporting your pants, your gun belt should be strong enough to hold your pistol in place. This means choosing a belt that is adjustable and doesn't stretch. You want to be able to tighten your belt to a place that is comfortable and keeps everything in place.
Every Klik Belt is completely adjustable so you can choose to tighten it as much or as little as you want to keep your gun and your pants in place. You do not want to risk showing or dropping your gun due to a poorly constructed gun belt. Choosing a Klik Belt, ensures that you will have a high-quality gun belt that can support your pistol and your pants. 
Doesn't Sag
Gun belts that are less than high-quality tend to cause a "gun sag," which means that your pants constantly sag on the side where your gun is being carried. This can lead not only being uncomfortable, but possibly revealing your gun to others or even dropping it out of the holster. You need to ensure that you choose a gun belt that is strong enough to support the extra weight of the gun.
When you choose a Klik Belt, whether you prefer the nylon or leather, you can rest assured that your pants will not sag on one side. A Klik Belt will keep everything in place at your waist and is adjustable so you can tighten as much as you'd like to keep your pants secure.  
Comfortable
While a gun belt's first responsibility is to keep your gun securely at your waist, it's important to have a belt that is comfortable enough to wear for long periods of time. If you plan to conceal carry most everyday, you'll want a belt that feels good around your waist. Nothing is more uncomfortable than a belt that you have to constantly pull back up or a belt that is too tight and digs into your stomach when you sit. A high-quality gun belt will do neither of those things, but be comfortable and supportive at all times.
At Klik Belts, our belts are adjustable, so if it's too tight or too loose, you can easily make it comfortable again. Our belts do not stretch or warp because they are made from high-quality materials, so you can be secure in knowing that your gun belt will remain comfortable for years to come. 
Looks Good
When you are choosing the best gun belt, it's important to consider where you will be wearing your belt, so you can choose one that looks good. You want a belt that you can wear anywhere you are going to conceal carry, whether that is around town or to work, or both. 
One of the reasons that Klik Belts make such a great gun belt is because they are so versatile. Our belts look just as good with a pair of jeans as they do with work pants. We offer both nylon and leather options so that you can choose one that fits your needs and wardrobe, and we make our belts in many different color options. You can be sure that your Klik Belt will look good no matter what you're wearing. 
Order the Best Gun Belt
If you are searching for a gun belt that is comfortable, holds up your pants and gun, doesn't sag, is made from high-quality materials, and looks great, look no further than a Klik Belt. Our Belts are made from strong, durable materials so they get the job done and last. Shop our
two-ply
,
three-ply
, and
leather Klik Belts
today.