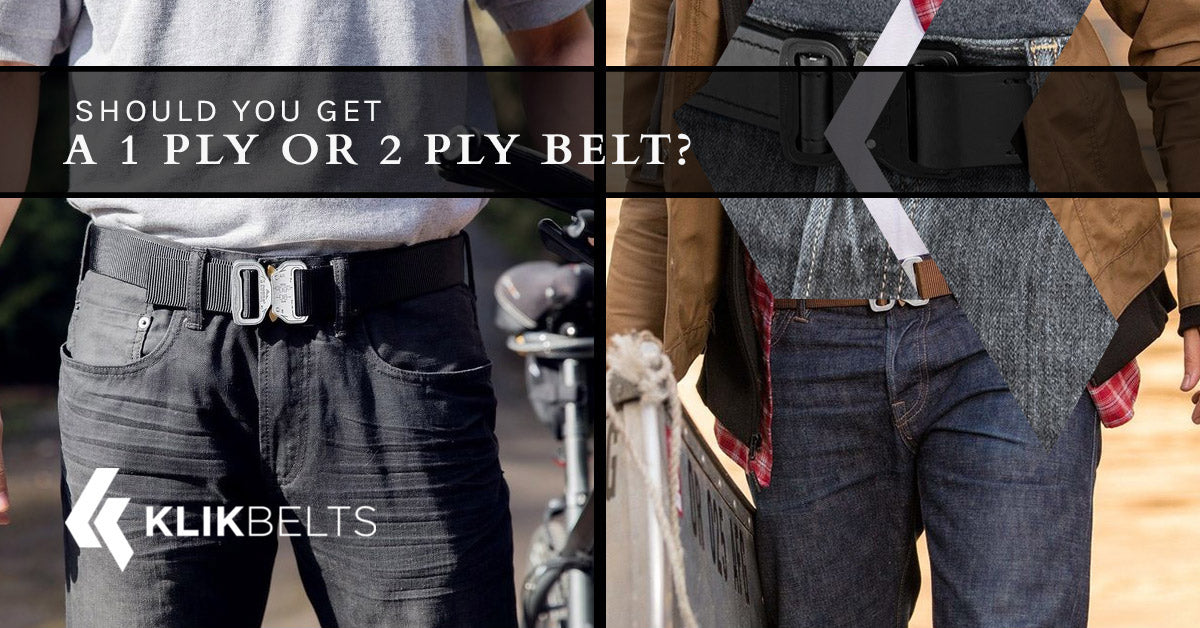 Should You Get A 1 Ply or 2 Ply Belt?
Here's the ideal answer: get both. Of course, if you're facing the decision to choose either one or the other, then that's not very helpful. Here at Klik Belts, we've received a number of questions regarding the versatility and utility of our 1 ply regular belts as well as our 2 ply tactical belts — so much so, in fact, that it's one of our frequently asked questions. Our FAQ page is full of many great questions and even greater answers, so if you'd like to learn more about our products, we highly recommend spending some time over there!
Regardless Of Your Preference, Choose Klik Belts
Ultimately, like many decisions involving one product over the other, your choice comes down to what you're going to use your Klik Belt for. In today's blog post, your source for the best heavy duty belts online is going to take a brief look at our 1 ply belts and 2 ply belts for sale. If you have any questions that our trusty FAQ page can't answer, don't fret. Simply contact our team and we'll be happy to chat with you.
Are You An Everyday Belt Wearer?
There are three types of pant wearers: those who religiously throw on our belt, those who opt for stretch-fit pants now and then, and those who don't mind dealing with loose, saggy trousers. Perhaps the latter group hasn't experienced the comfort, simplicity, and rugged versatility of a Klik Belt.
If you're simply looking for an everyday belt that's going to comfortably support your pants and provide unparalleled adjustability, our 1 ply regular belts will do the job just fine. Our single ply nylon is more durable and pliable than you might think! From outdoor adventurers to workaholics, this is the ideal all-purpose, everyday belt.
Do You Carry Heavy Gear On Your Waist?
Our 2 ply tactical belts are more than able to handle casual wear, but if you routinely carry just about any amount of weight on your person — specifically, your waist — then our 2 ply tactical belts are the way to go. They're specifically designed with law enforcement officials, military members, SWAT, and special ops forces in mind.
Though our standard nylon is built to withstand the most strenuous conditions, we recommend going with our tactical belts to handle more weight. They're more rigid, featuring an outer ply with 1 ½" high-strength nylon and an inner ply with a proprietary webbing system. Better yet, they're also triple stitched to ensure that nothing ever comes undone.
For those dedicated to keeping the United States free and safe, our 2 ply tactical belts are the only true way to go.
Do You Wear A Holster?
Chances are, if you wear heavy gear on your waist, that probably includes a holster and handgun. However, in America, you don't have to be a law enforcement officer or military member just so carry a gun on your person. There are many law-abiding citizens who rightfully have a handgun on them with a concealed carry solution. While our 1 ply belt can certainly handle the weight of your handgun, our 2 ply tactical belts are specifically designed for it.  
So, if you routinely concealed carry or live out on a large plot of private land and carry a handgun for recreational or defense-based purposes, Klik Belts highly recommends our tactical belts for sale.
Are You Willing To Spend A Little More?
You might think that we're charging quite a lot for a simple belt, but when you consider the fact that we sell the most comfortable, easily adjustable, and strongest load-bearing belts on the planet, you're facing unmatched value. This initial investment will last you a lifetime and we're confident that it'll pay itself off after a few months of use!
Our 2 ply tactical belts do cost a little more than our standard 1 ply belts, but if you're a heavy-duty belt user, trust us: it's worth it.
Shop Our Selection Of Heavy Duty Holster Belts Online Today
Whether you're protecting the public or you simply need a reliable belt for everyday wear, Klik Belts is the answer. Shop our main collection today or feel free to check out what people have been saying about our products here.