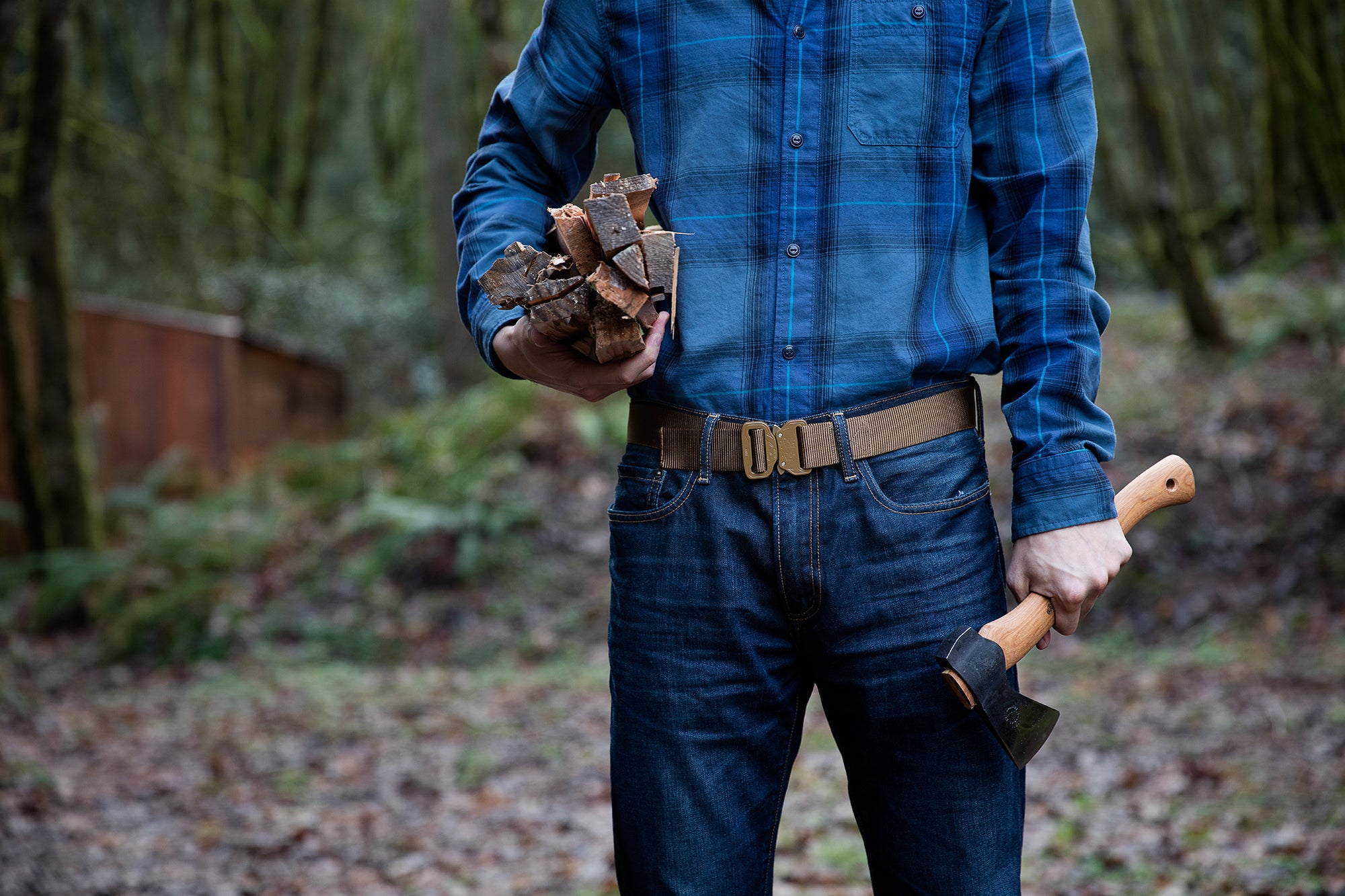 The Best Belts For Men And Other Great Gifts For Father's Day This Year
The earth has almost completed one full revolution around the sun since the last Father's Day, and if you've followed our blog for a while, you know that this can only mean one thing: it's time to review some great last-minute gift ideas for the old man in your life!
Here at Klik Belts, we like to think that we're quite the dad-friendly business. We make the best melts for men (and women!) on the marketplace, and since many dads need ample short and pant support, we know that our products are very fitting for the job at hand.
Dads need all-day waist comfort and support for those lazy summer afternoons tending to the grill, for the long Monday morning meetings at work, and when he's wrangling up the family for church on Sunday morning. In short, dads need a comfortable and strong belt just as much as the next person, and we're proud to supply fathers around the world with such a belt.
Give Back To The Dad In Your Life With The Best Belts Online
Our strong belts built to hold the weight of a holster truly make a great gift for dad. However, maybe your father already owns a Klik Belt (or even multiple belts), and he's dropped a few hints to get him something else for his special day. In any case, here are some excellent Father's Day gift ideas to help aid your search for the perfect dad appreciation present.
6 Great Father's Day Gifts To Get In A Pinch
Comfy Shoes
We all know what "dad shoes" look like — you know, those ultra-white New Balances that look like clown shoes. They look pretty dorky, but there's a good reason that your Dad wears them, and that's because they're extremely comfortable. They provide all-day support and ample cushioning for those weekend honey-dos, and he's not going to settle with a more stylish pair of shoes...that is, unless they're equally as comfortable.
There are a number of shoe brands out there that provide stylish footwear that are also surprisingly comfortable. Take Allbirds, for example. Their environmental approach to creating comfortable footwear sets them apart from other shoe brands, and their wool materials make their shoes really soft, all while looking quite sharp and stylish.
If dad just can't part ways with his New Balances, at least get him a pair of gel inserts for his Sunday dress shoes.
Hot Sauce
If your dad enjoys cooking, living on the spicy side of life, or simply enjoys zesty and flavorful food, consider gifting him a bottle or two of hot sauce. Hot sauce is a surefire winner of a gift since it's practical, easy to use, and immediately effective. It's also relatively inexpensive, so you can purchase multiple bottles from different craft hot sauce brands to provide a multi-flavor heat experience.
A Cast-Iron Skillet
Ideal for the dad who loves to cook (and proudly insists on cooking breakfast for the whole family on his big day), a cast-iron skillet is a must to have in the kitchen. Why use one over conventional pans such as Teflon? For one, cast iron skillets heat very evenly. Another reason why cast iron skillets are superior is due to their dense metal construction, meaning that they conduct and retain heat very efficiently, and they're also extremely durable.
Cast iron skillets also make for a relatively cheap Father's Day gift, as you can find good-quality skillets for around $15-20 at many stores.
A Temperature-Controlled Ceramic Mug
Mugs and insulated drink containers like Hydro Flasks are great at keeping hot beverages hot and cold beverages cold. However, an open-face mug will leave a piping-hot cup of coffee or tea room temperature after standing for 20-25 minutes. If your dad tends to drink his coffee slowly (and always complains about having to microwave it), the Ember Temperature Control Ceramic Mug is a great gift to consider.
It's a bit on the pricey side of things at around $80, but think about it: he'll be controlling the temperature of his beverage through an app. That's pretty cool...or hot!
A Pack Of Tile Reminders
As we get older, we tend to misplace valuable items around the house or the car. There's nothing worse than the anxious feeling of knowing you've misplaced your pair of sunglasses or your wallet, so it only makes sense to put a tracker on these valuables. Tile makes an innovative tracker that uses Bluetooth technology to communicate with dad's smartphone. All he has to do is pull up the app to track down where his misplaced items are.
A Book Full Of "Dad Jokes"
If there's one thing that many dads enjoy doing, it's cracking a healthy and cheesy dad joke — you know, when you tell your dad "I'm hungry" and he replies with "Hi, hungry. I'm dad!" Appeal to his dry sense of humor and these groan-inducing jokes with a book packed full of funny, dad-worthy content. At the very least, he'll be entertained for the rest of his Sunday, and he'll more than likely find plenty of inspiration to fuel his own "completely original" jokes.
The Perfect Belt For Dads: Buy A Klik Belt!
Ideal for dads of all kinds, a Klik Belt is the most comfortable way to support his shorts and pants in style. To find a great color that suits his fancy, shop Klik Belts and our selection of men's belts online.