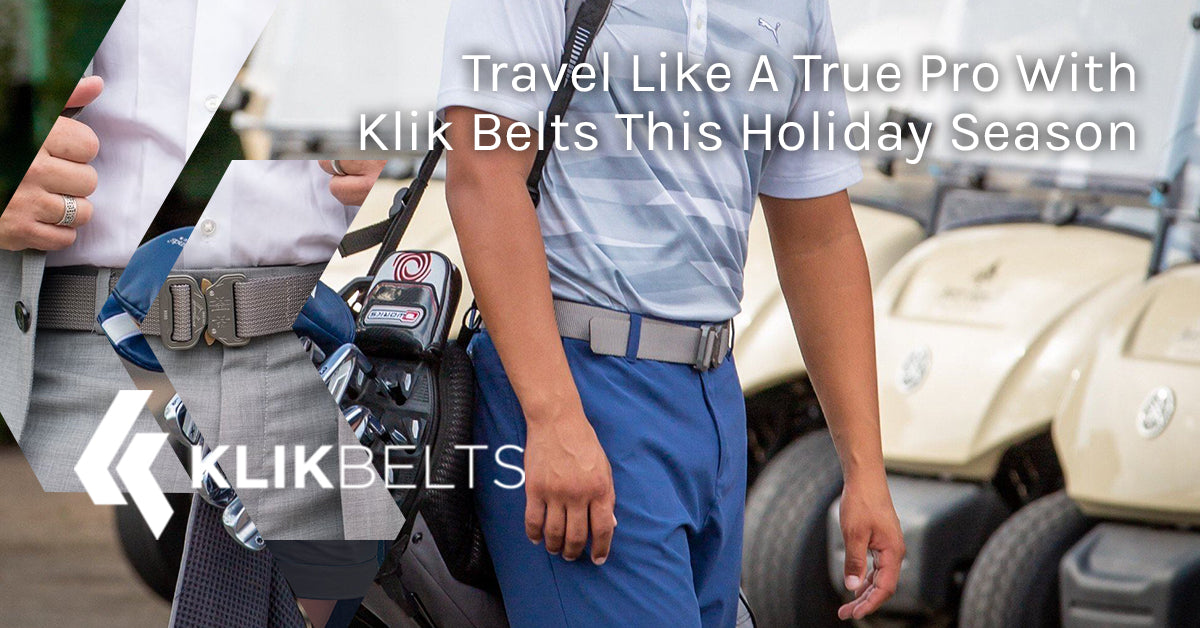 Travel Like A True Pro With Klik Belts This Holiday Season
If you're one of the millions and millions of people who travel for the holiday season every year, then you'd probably appreciate just about anything that makes the experience less of a hassle. Let's be honest: flying somewhere can be exciting, but checking in, going through airport security, making it to your gate, and sitting through the actual flight can be a total pain in the rump. It's about time that traveling wasn't such an inconvenience for people.
How Klik Belts Can Help
You might be thinking, "This is great, but just how can your adjustable belts help me have a smoother holiday travel experience?" That's a fair question, and it's a question that we'll touch on a little further below in today's travel tip blog post.
If you're looking to get a TSA-approved holiday gift just in the nick of time this Christmas season, Klik Belts has you (and your pants) covered. Shop our limited color collection today, or get something truly nice with our leather belts for sale.
Book The First Flight Out
Now, this travel tip only works if it happens to work with your schedule or travel itinerary, but if you can, take the first flight out that morning. Yes, it's insanely early. Yes, it's dark out. Yes, you'll be a zombie. But guess what? You can sleep during the flight, and you can probably sleep at your family member's house once you reach your destination.
Why take the first flight of the day out? That's because delays are more likely to occur with later flights in the day. Even if there isn't a storm on the horizon (and how could you predict something like this that's so far out?), it's a safe bet to buy a ticket for an early bird flight.
Get To The Airport Early
The holiday crowds are going to bottleneck airport security, so make sure to arrive earlier than you normally would. It's always better to hang out at your gate for a while rather than run toward it with your shoes in hand and a face that screams "I didn't plan my time very well!"
Again, it may be quite the early morning for you, but take this time to catch a nap before your flight boards, read a book, or even do some work on your laptop. Long security lines are all the more reason to try and get the first flight of the day like we mentioned above.
Remember That You Can't Always Travel With Gifts
Your homemade jellies and jams will certainly be appreciated by the recipient, but TSA officials sure won't appreciate them. Keep their travel guidelines and limitations in mind, and don't wrap any presents until you reach your destination, as an unknown item may have to be unwrapped. That's no fun.
Use Our Comfort Click Belt For An Easy Airport Security Experience
Klik Belts are great because they'll instantly click together and click apart for fast and easy removal when you're headed through the security lines. It doesn't get much better than that! Stay tuned for another travel protip blog from Klik Belts, or feel free to get in touch with us if you have any questions.