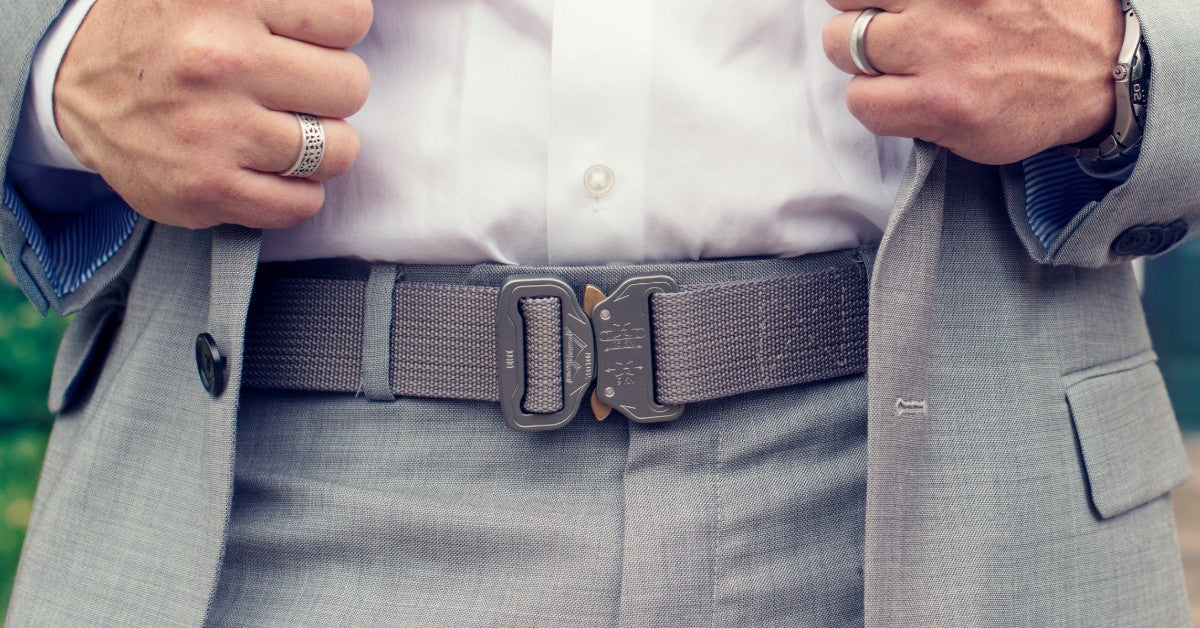 Why You Need a Belt With a Cobra® Buckle
When you need the strongest, most reliable, durable, and longest-lasting belt, you'll want one that is equipped with a Cobra® buckle. The Cobra® buckle is known for its quality and ability to withstand extremely high load bearing weights. Belts with a Cobra® buckle are ideal for outdoor activities such as hiking, hunting, and fishing, and perfect for those with jobs such as EMTs, firefighters, police officers, and the military. They offer unmatched strength that will help you get your job done safely, every time.
If you are interested in a belt with a Cobra® buckle, shop our selection at Klik Belts. We use only authentic Cobra® buckles on all of our belts and offer multiple strengths and sizes so that you can find a belt that will perfectly fit your needs. Shop our selection of Klik Belts today.
What Is a Cobra® Buckle?
An authentic Cobra® buckle is made only in Austria by a company called AustriAlpin. It is made from the highest quality aluminum alloy, stainless steel, and brass. The Cobra® buckle consists of a male end with a prong and a female end. The two parts click together. To release the buckle, you must press two release tabs simultaneously. Cobra® buckles are known for being one the strongest buckles available and are used for everything from tactical belts to parachutes to military applications. A Cobra® buckle can literally withstand tons of weight.
For a buckle to be an authentic Cobra®, it must be manufactured at AustrAlpin. This is a company that takes tremendous pride in the quality of their products. They like to say that they have a higher IQ, or higher innovation and quality. They don't outsource or try to cut corners to save a few bucks. AustriAlpin is dedicated to bringing you only the best and this is why Cobra® buckles have such an outstanding reputation. 
Cobra® buckles cannot be beat when it comes to durability, strength, reliability, and safety. If you want a belt that is truly the best and is versatile enough to wear to work, out adventuring, fishing, hunting, or when you are out with friends and family, look no further than the Klik Belt. All of our belts feature the authentic Cobra® buckle so you can rest assured that when you purchase a Klik Belt, you are receiving the best in quality and durability. 
The Strength of a Cobra® Buckle 
Cobra® buckles are known for their strength. They are constructed from the highest-quality 7075 aluminum alloy. Cobra® buckles also incorporate brass and stainless steel components for added quality and strength. They are commonly used for tactical belts for military, law enforcement, and even rock climbing because of their reliability and strength. When you're tackling a tough job and there are lives on the line, you want to make sure that you have the best.
Cobra® buckles can support anywhere from 2,000 to 11,000 pounds depending upon the model. That means that this belt can hold a load bearing weight of up to five and a half tons. Imagine having that type of strength and support on your belt. The Cobra® will not unintentionally release itself and stands up to the weight every time.
You will not find a better, more reliable buckle to have on your belt. At Klik Belts, we manufacture each of our belts with a Cobra® belt buckle so no matter what your activities or career, we have a belt that will work perfectly for you. If you need a reliable belt to hold your pistol, radio, and other equipment, Klik Belt has you covered. If you're looking for a belt that will outlast any other belt you've ever owned and looks good enough to wear out with family or friends, the Klik Belt is here. Shop all of our Klik Belts today.
Cobra® Quick Release
All Cobra® buckles are built with the highest degree of safety in mind. Our buckles are quickly released with the press of two buttons, but will not release otherwise, even when under load. The number one goal of a Cobra® buckle is to provide safety and strength. Every buckle is third party tested and exceeds Mil Spec guidelines for dust, sand, and salt water. Before any Cobra® buckles are shipped from the AustriaAlpin warehouse, they are test loaded to 11kN. 
Cobra® buckles' quick release isn't just a convenient feature, it's all about safety. They are built for long term reliability and extreme performance, all while ensuring your safety. When you choose a belt equipped with a Cobra® belt buckle like Klik Belts, you can be sure that you are receiving the highest in quality, strength, and safety. 
Order Your Belt With the Cobra® Buckle
If you are looking for a Belt with the unmatched strength of a Cobra® buckle, look no further than Klik Belts. Our belts are designed with the same strength, durability, and reliability of the people who rely on them. They are perfect for military personnel, outdoorsmen, law enforcement, construction workers, and anyone else who wants a belt that will provide them with the strength and stability needed to get the job done. 
At Klik Belts, our belts are made from tough nylon, or leather, and are available in varying strengths. We are proud to offer a belt that you can count on; a belt that you will want to use everyday whether you are going for a hike, to work, or out with friends and family. Shop all of our belts with Cobra® buckles at Klik Belts, and don't forget to check out our
accessories
for you and for your
furry friend
.
Shop Klik Belts
today.