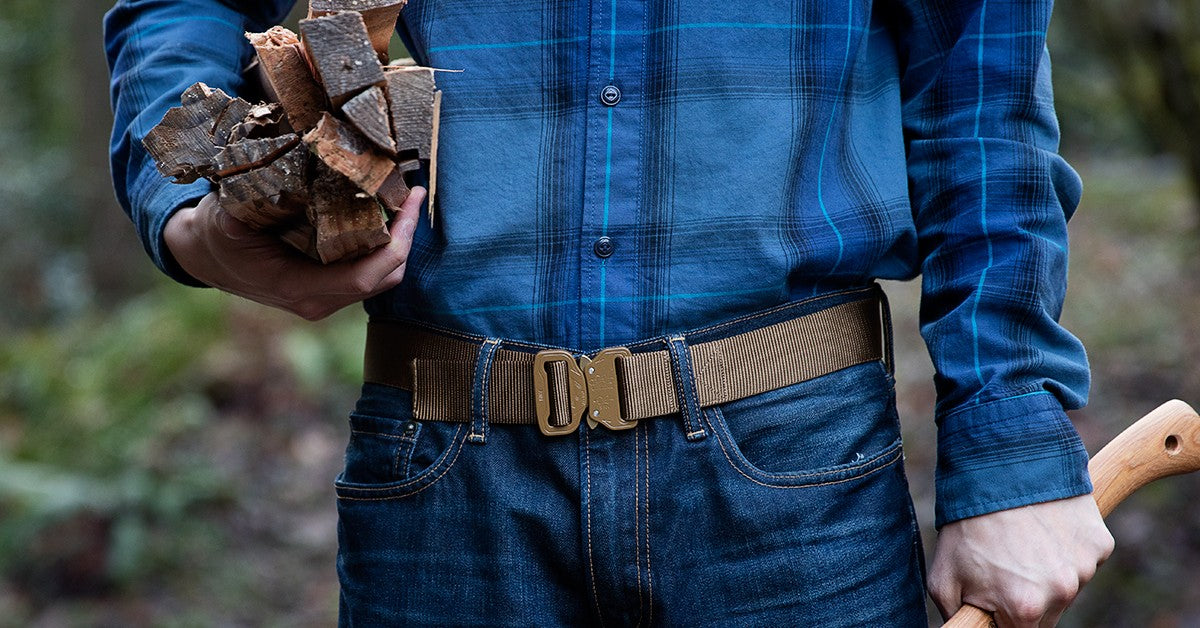 Why Klik Belts Are the Best Belts for Men
Have you been looking for the best belts for men? Your search is over now that you've discovered the Klik Belt. The Klik Belt is one of the strongest, most durable belts that you will find on the market. It's ideal for any man from the construction worker to the adventurer to law enforcement officers and beyond. Our belts provide strength that you have surely not seen in a belt before and last much longer than ordinary belts. 
If you have been searching for a belt that is unrivaled in strength and versatile enough to wear anytime, whether you're hiking, working, enjoying a casual day out, or attending a business meeting, the Klik Belt is for you. 
If you are ready to own the best belt a man could own, shop our selection of Klik Belts today.
Durability and Strength
The Klik Belt is the best belt for men, first and foremost, because of its strength and durability. Klik Belts are made to be worn by the strong, the enduring, the unstoppable, so it's only fitting that our belts are made the same way. Your Klik Belt will be there with you through the rough times and the rougher times and will not falter. So whether you are a backwoods adventurer, an avid fisherman, a lifetime military man, or a first responder, your Klik Belt will be there when you need it most.  
The Cobra® Belt Buckle
All of our Klik Belts are equipped with an authentic Cobra® belt buckle. These buckles are known for their strength and are made from the highest grade 7075 aluminum alloy and incorporate brass and stainless steel components. Cobra® buckles are commonly used in military applications, parachutes, and as cargo straps because of their unmatched strength. They have a load bearing strength of anywhere from 2,000 to 11,000 pounds depending upon the model. That is the strongest buckle you will ever find on a belt. 
Thicknesses 
Klik Belts are available in different thicknesses so that you can have the exact strength to fit your specific needs. Our standard 1 ½ inch belts are available in one-ply and two-ply. Our one-ply belt is perfect for the man who works around the house and goes hunting, fishing, or hiking. It's comfortable, easy to use, and has plenty of strength for those that are going to wear their belt for extra curricular activities.
Our two-ply belt is designed for first responders, firefighters, police officers, military personnel or anyone who needs a bit more strength to carry heavier items around their waist such as radios, weapons, or tools. The two-ply Klik Belt is also recommended for anyone who will be concealed carrying.  
At Klik Belt, we also offer a 1 ¾ wide-duty belt and those are available in three-ply. Our customers, specifically those from the military and law enforcement, asked us for a wider, stronger belt that would give them added strength and stability and so we introduced our wide-duty Klik Belt which delivers just that. 
Versatility
One of the many things that men love about our belt is the versatility. Klik Belts are perfect for construction workers, EMTs, firefighters, police officers, military personnel, and any man who enjoys time outdoors or working on their home. Our belt can be worn for work or out to a casual get together. It looks good, feels great, and gets the job done, everytime. 
Klik Belts for Work
If you have a job that requires you to have a strong belt that will be there when you need it, the Klik Belt is here. Your belt will never accidentally become undone and it will hold all the tools and equipment you need right around your waist for easy access. If your job requires you to carry a radio, pistol, and other equipment or tools, the Klik Belt can handle it. The tough, reinforced nylon won't let you down and your Cobra® buckle can withstand literally tons of weight. 
Klik Belts for the Sportsman and Adventurer
If you enjoy spending time outside participating in activities like hunting, fishing, or hiking, the Klik Belt is ideal for you. You won't find a belt that is easier to use or as strong as the Klik Belt. If you need to carry gear or equipment from your waist for easy and frequent access, the Klik Belt is there.
Klik Belts for Casual Wear
Did we mention Klik Belts also look great? Our belts are perfect to throw on with a pair of jeans if you're spending the day with family, going out with friends, or just hanging around the house. Klik Belts are strong and durable, but also quite fashionable.
Klik Belts for the Office 
With the introduction of the leather Klik Belt, you can now wear your favorite belt with a suit and tie. Our leather belts are made from premium grade Hermann Oak leather so they look great and are still functional. You can wear your Klik Belt to the office, to a black and whtie event, or anywhere you need to look your best and it still functions as a sturdy, strong belt that provides plenty of support for holsters and concealed carrying when you need it.
Shop Klik Belts
If you are ready to own a strong, durable, and versatile men's belt, it's time to view our selection of Klik Belts. Decide on your strength, size, and color and get ready to receive your new favorite belt. You'll love your Klik Belt so much that you'll want to wear it everywhere.
Shop our selection of Klik Belts for men
today.