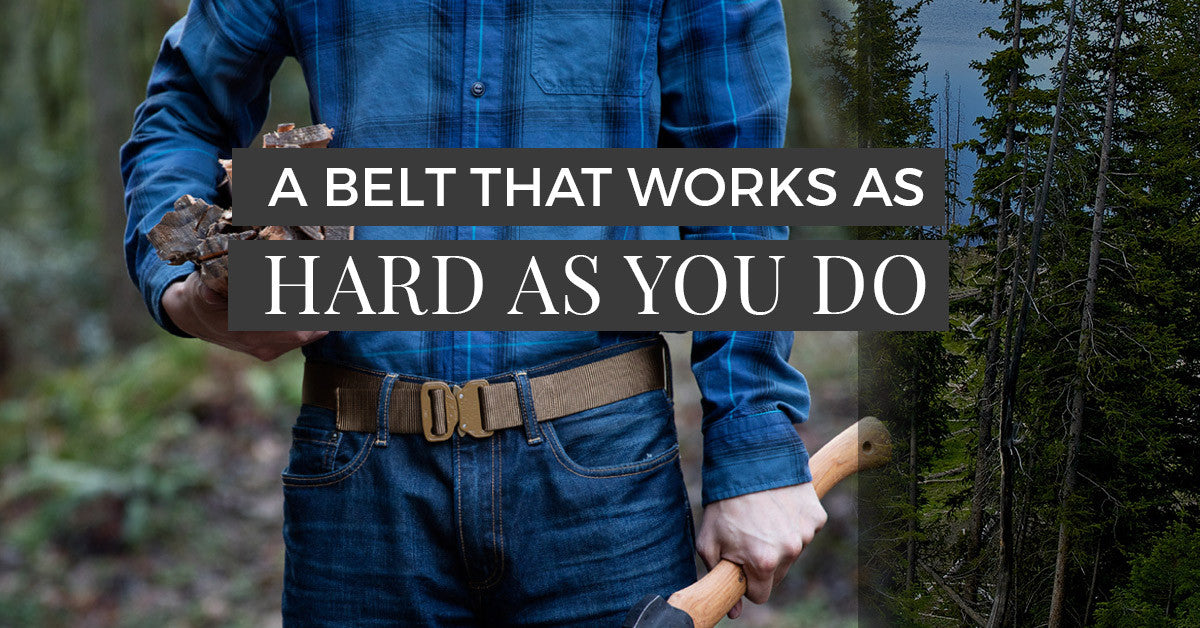 Work Belts That Work As Hard As You Do
Here at the Klik Belts headquarters in Austin, Texas, we take work belts seriously. After all, you work hard and you need a work belt that can keep up. Luckily for you, Klik Belts are up to the task!
What Makes Our Work Belts Different
The average belt you'd buy at the big box retail store isn't likely to hold up in the long run and buying belt after belt (after belt after belt…) is just not something the average person has any interest in doing. The fact that "genuine leather" is actually not genuine might be your first sign that it's not going to hold up when you need it to. The dust that's left over from other leather projects that's been swept up, glued together, and then pressed into a belt is hardly real leather, wouldn't you agree?
Klik Belts are different. Whereas your average leather belt is probably going to fray or rot with the type of work you have to do on the job site, a Klik Belt will stand the test of time. Our work belts are different because we use a heavy duty military spec nylon webbing that was specifically chosen for its toughness and durability. Add in the fact that it's rugged, comfortable, and good looking and you have yourself a work belt for the ages.
Each one of our Klik Belts is also made with a Cobra® buckle. Proven time and time again to be one of the best buckles on the face of the earth, it will hold up no matter what you throw its way. Our Cobra buckles are made using 7075 aluminum alloy that weighs only 4 ounces, but can still handle over 4,000 lbs. of force. It has been used for decades in the military for special ops, hang gliders, and tactical teams who have praised it for its design and durability.
The Most Comfortable Work Belt You'll Ever Own
The combination of solid brass release clips, a Cobra buckle, and our heavy duty nylon webbing might seem like it will hold up, but might not be the most comfortable thing in the world to wear. Fortunately for workers everywhere, that's not the case. The nylon webbing we have chosen was picked specifically because of the fact that while it is durable, it's also incredibly soft which means that at the end of a long day, your body (and specifically your hips) will thank you.
Learn more about what makes a work belt from Klik Belts a great choice for construction sites and then take a look at all of the color choices we offer. You're sure to find something that perfectly suits your needs, but if not, there's nothing to worry about. You heard us right—we're happy to let you choose a color combination of webbing and buckle. All it takes is a quick email or note on your order and we'll make it happen for you.
Still have questions? Not to worry. We have provided a list of our most frequently asked questions. Of course, as always, if there's anything we can help with, don't hesitate to contact us here on the Klik Belts website or reach out to us on social media! We're here to help.
At the end of the day, you need a work belt that can work as hard as you do. You work to provide for your family and put food on the table. Get a belt that can keep up. Join the Klik Belt revolution today and say yes to the last work belt you'll ever buy (unless you need a different color that is)! Start your day with a satisfying "klik" when you purchase a Klik Belt today!