How Do I Determine My Belt Size?
Our Belts are based on unisex sizing, or men's sizing.
Women tend to wear their pants lower than men and have larger hips, so many women wear a larger size belt than they think.
To find your Klik Belt size, size up one size from your women's pant size.
If you are a bit curvier, size up two sizes from your pant size.
If you are unsure of which size to order, we are more than happy to help.
You can also take your own measurements around where you wear your belt and find your size on the belt sizing chart to the left.
We will happily exchange belts if they do not fit and even pay for return shipping. However, we cannot offer a full refund on custom-made belts.
Starting a Revolution One "Klik" at a Time
At Klik Belts, we have revolutionized the belt so that it is no longer just a boring fashion accessory. Our belts are made from quality materials like our mil-spec nylon, Hermann Oak top-grain leather, and of course each belt features an authentic COBRA® buckle. Whether you're looking for a belt to wear casually while out with friends, a leather belt to dress up an outfit, or you need something rigid and strong to support large amounts of equipment, we have the perfect belt for you. At Klik Belts, we make belts for the adventurer, the outdoorswoman, and those who take on the responsibility of protecting others in the military, law enforcement, or as a first responder. A Klik Belt is a belt that you can always rely on. Shop our selection of women's belts today.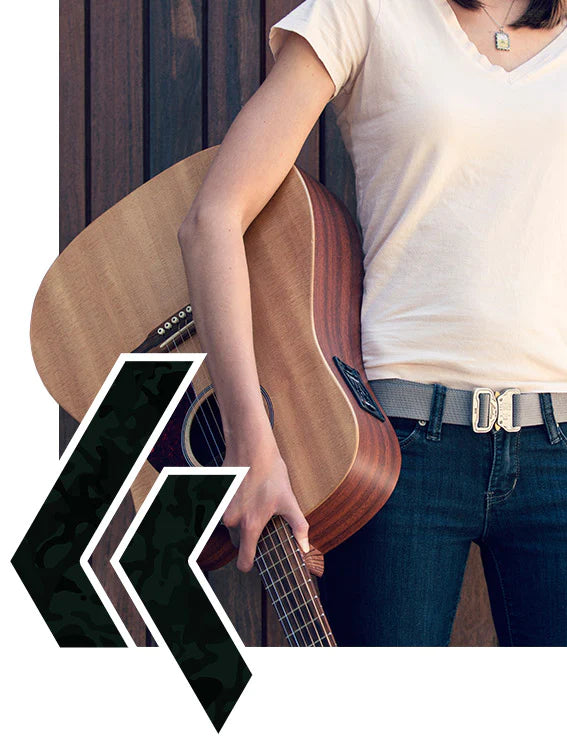 Women's Belt Types, Strengths, and Thicknesses
1.5-Inch One-Ply Nylon Belt
Ideal for casual wear
Pliable and comfortable
1.5-Inch Two-Ply Nylon Belt
Perfect for tactical and outdoor wear
Added strength and rigidity for concealed carrying
1.75-Inch Three-Ply Nylon Belt
This is our duty belt and was created due to requests by law enforcement officers, military personnel, and first responders
Provides extra rigidity, strength, and support to carry large amounts of equipment
Double-stitched and made from Hermann Oak leather
1.5-Inch TSA-Approved Nylon Belts
Features a polymer COBRA® buckle so it can be worn through metal detectors and airport security
Available in one-ply or two-ply
Rigger Nylon Belts With D-Ring Buckle
Available in 1.5-inch or 1.75-inch widths
Available in one-ply or two-ply thicknesses