How Do I Choose My Belt Size?
Our belts are designed to match your pant waist size.
If you wear a size 36 in pants, you should order a size 36 belt.
Do not size up for adjustability. We include a one-ply tail for adjustability.
If you plan on carrying a concealed weapon, size up one size for additional room for your firearm.
If your belt does not fit for any reason, we will pay for return shipping and happily exchange your belt.
We do not offer full refunds or exchanges on custom belts.
A Belt for Every Man
Whether you are searching for a casual belt to wear while working around the house, a belt to wear while exploring the outdoors, or a belt strong enough to carry everything you need right at your waist, Klik Belts has the perfect belt for you. We offer our one-ply belts for casual wear, our two-ply belts for tactical wear, and designed our three-ply belts with law enforcement, military personnel, and first responders in mind. We also make exceptional leather belts that are perfect for concealed carrying. At Klik Belts, we have a belt that will fit your needs no matter what they are. Shop our selection of men's belts today.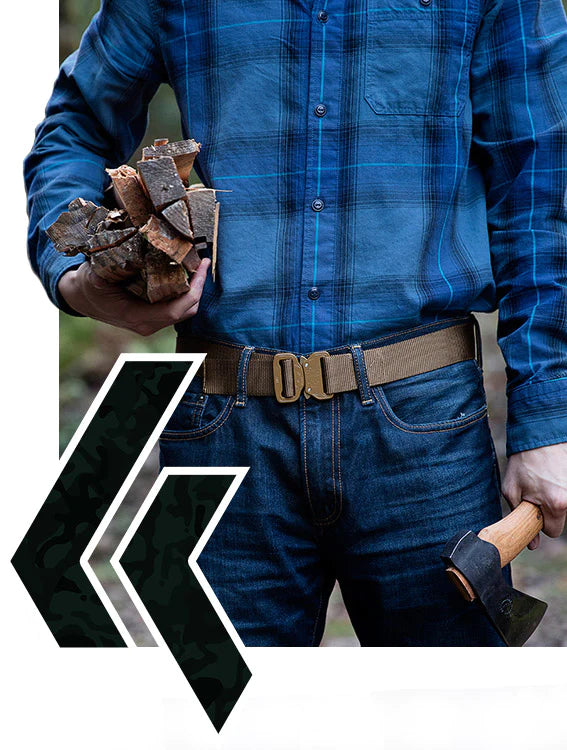 Men's Belt Types, Strengths, and Thicknesses
All of our men's belts are equipped with an authentic COBRA® buckle.1.5-Inch One-Ply Nylon Belt
Perfect for casual wear
Pliable and comfortable
1.5-Inch Two-Ply Nylon Belt
Ideal for tactical wear
Added strength and stability for concealed carrying
1.75-Inch Three-Ply Nylon Belt
Duty belt designed for law enforcement, military, and first responders
Extra rigidity and width provide the strength and support need to carry large amounts of equipment
1.5-Inch Top-Grain Leather Belt
Ideal for concealed carrying
Made from Hermann Oak leather
1.5-Inch TSA-Approved Nylon Belts
COBRA® buckle constructed from polymer to make going through metal detectors a breeze
Available in one-ply or two-ply
Rigger Nylon Belts With D-Ring Buckle
Available in 1.5-inch or 1.75-inch widths
Available in one-ply or two-ply strength