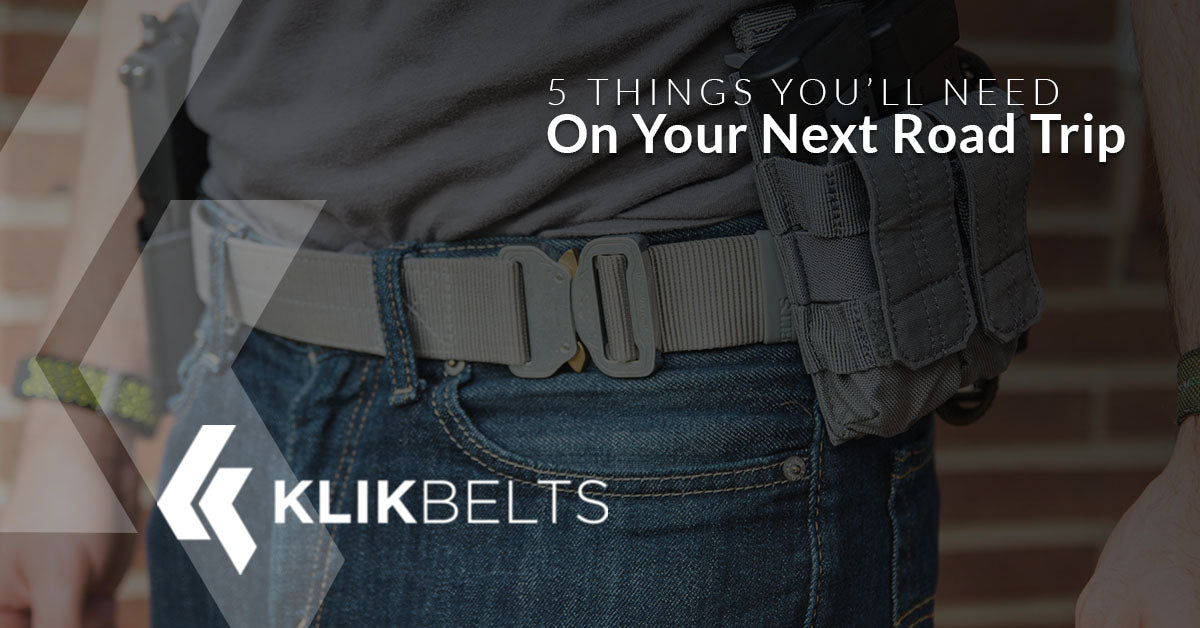 5 Things You'll Need on Your Next Road Trip
In our last blog, the team at Klik Belts wrote all about where to go on your next big road trip. As the weather starts to warm up a bit, people all across the United States are making plans to do a bit of exploring. If you missed out on our previous post, our suggestions were to visit Big Sur, the Rocky Mountains, and the state of Maine on a road trip.
Regardless of where you choose to go, you'll need to make sure that you have the supplies you need to keep things running smoothly. After all, the last thing anyone wants is to be stuck in a car with people who are cranky because they don't have what they need for a great road trip! Fortunately for you, the team at Klik Belts has you covered. In today's blog, we'll take a look at a handful of things you should definitely pack to bring with you on your next road trip. What will make the list? Keep reading to find out!
Planning a Road Trip? Here's What You'll Need
Water
One thing you'll want to be absolutely sure you have with you in the car is plenty of bottled water. There's nothing worse than having to stop at every other gas station to buy bottled water that's marked up so much it hurts. Instead, load up the back of the car with plenty of bottled water so that you can quench your thirst when you need to instead of having to wait until you drive by a convenience store. You'll save yourself time and money by doing it this way, making it a win/win situation for everyone involved.
Snacks
Same goes for the snacks. There are millions of snack options out there, but one thing is for certain--you're not going to want to stop every two hours to pop into the gas station. (Stopping to go to the bathroom? That's another thing entirely, but fortunately for you, our easy-to-buckle belts have you covered.) Whatever you choose to have for a snack, just be sure to grab it beforehand to save yourself in the long run.
Smartphone
This suggestion admittedly might not even need to be made, because at this point, everyone has their cell phone near them at all times. When you're not around your cell phone, you start to feel like something is missing. When it comes to this trip, however, that's the absolute truth.
Your smartphone can do everything from provide you with useful directions when you're lost to take pictures of your adventures to communicate your current whereabouts via social media. In short, there are plenty of reasons to bring your smartphone and it might just end up being one of the most useful items to have on your trip. Whether you use your phone to check the weather, tell your mom you made it to your destination, or look up reviews for a restaurant on your trip, you'll be glad to have it.
Comfy Clothes
Having a really comfortable pair of clothes is extremely underrated when you're embarking on a road trip. Trust us when we say that on your third 12 hour day of driving, you'll be glad that you packed a pair of sweatpants and a hoodie. Of course you'll want to have a change of clothes for when you arrive at your destination, but no one will judge you for wearing cozy sweatpants while you're driving across the country. And if they do? Well, hey, you'll never see them again, so what does it matter anyway?
On the open road, comfort is king. Be prepared by bringing along the comfiest clothes you have.
A Klik Belt
You'll also want to have a Klik Belt on hand because it can do it all. Wearing jeans while exploring a town? Need to don a suit for a date night at an expensive restaurant? Wearing a pair of khakis and need a camping belt that won't let you down? Having a Klik Belt is the answer every single time. Available in a number of colors to suit your needs, we make it easy to buy belts online because you can adjust its final size to whatever you need at the time. This is ideal for long stretches in the car or adjustments after a big meal.
Order One of Our Heavy Duty Belts Today
Whether you're road tripping across the country or just making the trip to your office for a day on the job, a Klik Belt will always suit your needs perfectly. Take a look at our entire collection of belts to find the one (or two or three) that work best for you and then place your order today. It might end up being the best thing you take with you while you're on the road.