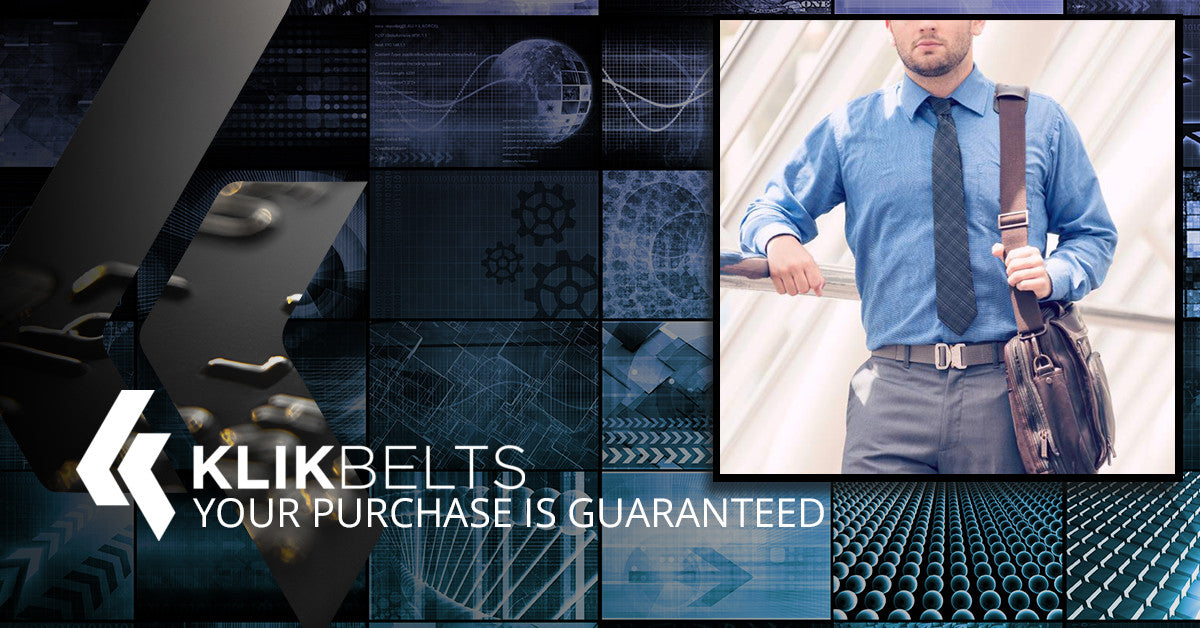 Buy Belts Online With Confidence When You Shop at Klik Belts
We've talked about some of the pitfalls of buying belts online in our previous blogs--sometimes the color isn't right, sometimes you think you're getting something that will last (and it doesn't), sometimes you get something completely different than what was promised. It seems like it's always a gamble, doesn't it?
At Klik Belts, our goal is to make buying belts online a total breeze. How do we do that, you ask?
It's pretty simple--what you see is what you get!
In our last blog, we went over what makes Klik Belts the best belts for men that are available. We do that by offering a product that's made in the USA, that has been built with high quality materials, and was designed to stand up to anything you can throw at it.
But there's one thing we left out that makes our heavy duty belts so great--you can buy them online with confidence, knowing that what you order is what you're going to get.
Buy Belts Online Knowing That Your Purchase is Guaranteed
Whether you opt for one of our classic combinations like polished aluminum and grey or something a bit stealthier like our matte black Klik Belt, you can expect that what you'll get is the best. You can also choose to totally customize your own belt too, by the way. Want a color combination that we don't offer? No sweat. Simply place your order and in the special notes section of your cart, leave us a message stating what combination you prefer.
You can get creative or go with a look that's tried and true. Either way, you'll receive a belt that is likely to exceed your expectations.
You Buy Your Clothes on the Internet, So Why Not Buy Belts Online?
If you're anything like us, the majority of your clothes shopping is done online. Men these days simply don't want to spend the time going to the mall, and for good reason. Have you ever had a good experience at the mall? Yeah, we really haven't either. We're also not the type of fellas who let our wives take care of the shopping.
Sure, she buys us shirts from time to time, but we know what we like and we're capable of picking our clothes out for ourselves, right guys?
We've discussed how hard it can be to find a belt in the big box stores in our previous blogs. Sure, Wally World might have a belt for $3, but you know how long that thing is going to last, right? In the day and age we live in, buying things online is the way to go. You save yourself the hassle of making the trip to the store and you get something you might not be able to find at the mall.
It's a win/win.
Order Your Klik Belt Today
At Klik Belts, we make the process of buying a belt online a simple task. It doesn't matter whether you opt for one of our pre-chosen color combos or try your own. You'll still end up with a heavy duty belt that's built to last.
What's best is that you can order with confidence. We make finding the right size a breeze and we stand behind everything we sell. If it doesn't work for you, just let us know because we want to figure out a way to make it right. Our goal is to make sure that when you order from Klik Belts, you get the best online shopping experience possible and end up with a belt that you'll pass down to your kids one day.