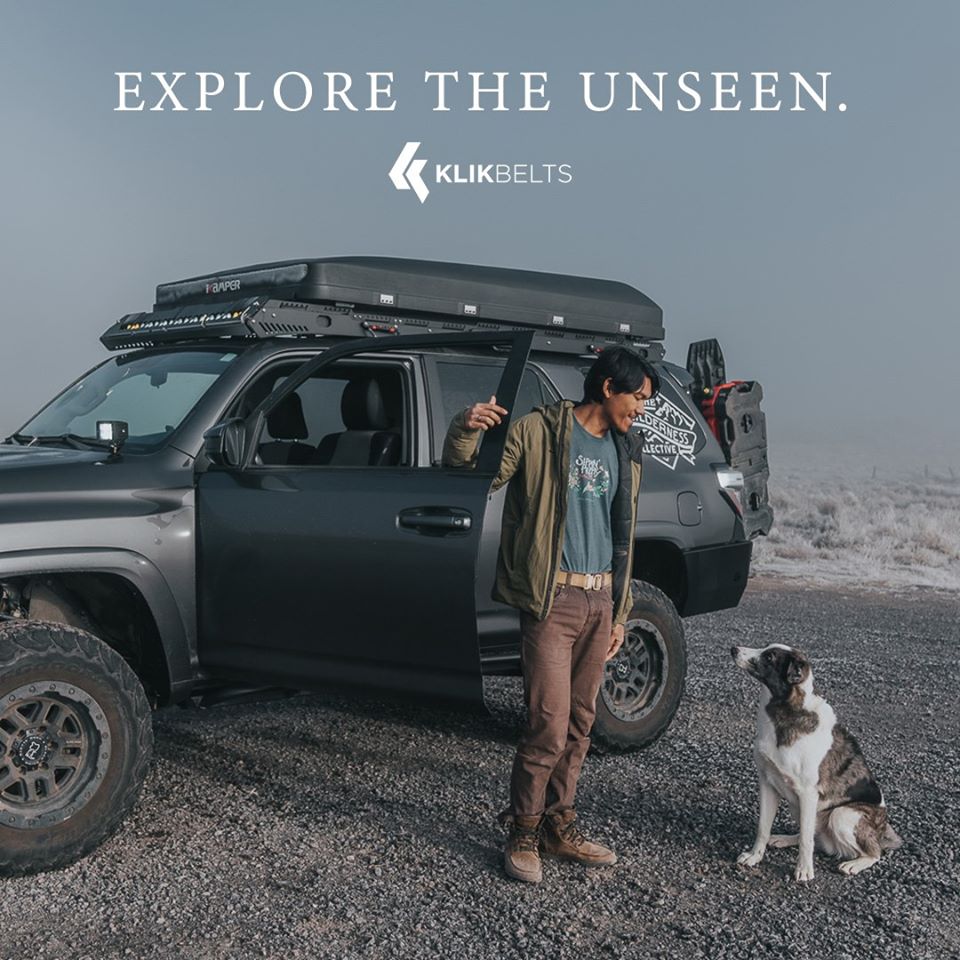 Explore the Unseen in 2020, Part 1

2020 is a new year and a new decade. Since this only happens once every 10 years, it can be extra special. For many, it's just the beginning of another year. For some, however, it can be the beginning of adventure, excitement, and exploration.
Klik Belts is super excited about the new year. If you've visited our website lately, you will not only see a new look, but also a ton of new products, including Klik Apple Watch Bands made from paracord and super cool Klik gear, such as Klik Caps and Klik Belts T-shirts. But this is only the beginning of what we have in store for the new year. We have lots of amazing new products in store to complement our already strongest men's and women's belts. Yes, indeed, 2020 will be a year of exploring the unseen. Below, we'll offer up tips on how you can explore the unseen, even if that's not leaving your town. Shop our belts online and all of our accessories today!
TIPS TO EXPLORE THE UNSEEN IN 2020
Traveling
This is the most obvious way to explore the unseen, and if you haven't been to wherever you are going, then everything is unseen. The world is truly your limit (unless you are going to explore space!), and there are so many places to visit, things to see, new activities to do, and nooks and crannies to explore that you could spend a lifetime doing so. In 2020, Klik Belts recommends that you pick at least one destination you want to explore the unseen and go there. This could be a nearby National Park or halfway across the world. While you're there, be sure to wear your women's or men's Klik Belt that is adjustable, comfortable, and perfect for everyday wear. And if you happen to be flying for your exploration adventure, try one of our TSA-compliant belts that features a polymer belt buckle instead of metal. These airport-friendly belts will let you breeze through airport security without the hassle of removing your belt.
A New Hobby
Speaking of things to do, there are many new things you can do right in your own backyard, such as explore a new hobby. This could be a physical activity, such as running, biking, or hiking, or this could be more on the artistic side, such as trying a drawing or a painting class. Furthermore, exploring the unseen by choosing a new hobby to try can be more fun if you do this with a friend who also wants to try something new and exciting. Not only will you be more likely to stick with your new hobby longer, but it will be a great bonding experience with your friend or family member. Don't forget to wear your Klik Belt at your new hobby to not only be sure that your pants stay up, but to ensure that you look good as well.
A New Lifestyle
Exploring the unseen in 2020 could mean that you explore a new lifestyle. Lifestyle entails how you live your life, which could include new interests, new behaviors, or new routines. For example, if you've been wanting to try a vegetarian lifestyle for a while now, this could be your year. Not only is eating vegetarian good for you, but it could help you lose weight and feel healthier overall. Another lifestyle change you could make is re-prioritizing your time. Perhaps  you want to volunteer more in your community, or you want to commit to spending more time with your loved ones, such as your children or your spouse. In essence, lifestyle changes are changes that impact your life. As always, be sure you are wearing your everyday belt for men and women, Klik Belts, as you make your lifestyle changes. Klik Belts are engineered to go where you go.
WHY CHOOSE KLIK BELTS TO EXPLORE THE UNSEEN IN 2020
Klik Belts are engineered to go where you go and do what you do. These adjustable belts will fit your body to a t, being a no-hole belt. They are made from the best nylon webbing, in 1-ply, 2-ply, and 3-ply versions. Using the patented Cobra® buckle, Klik Belts are the strongest belts in the world. Our belt buckles are anodized and not powder coated, giving them an amazing aesthetic not seen elsewhere. We also offer women's leather belts, as well as men's leather belts, that are comfortable, classic, and they make great duty belts.
As animal lovers ourselves, Klik Belts understands that you may want to explore the unseen with Fido. Klik Belts makes the strongest collars for big dogs as well, which are made so your dog remains under control at all times. If you want to climb the highest mountain or visit the hottest desert, Fido can be at your side as well, wearing a matching Klik Collar to your Klik Belt.
You can rest assured that if you choose to explore the unseen in 2020 that you will be well prepared, as our Klik Belts have multiple uses should you get in a pinch, from serving as a tow strap to help pull out your ATV to hauling food up in trees should you decide to camp and you forgot a rope. In addition, we now offer Klik Paracord Bracelets, which can be lifesaving should you ever get lost in the backcountry of the Rocky Mountains or lose your way hiking the Appalachian Trail.
With so much to see and do, exploring the unseen can be just a moment away. Plan today, and order your Klik Belt for your next adventure!