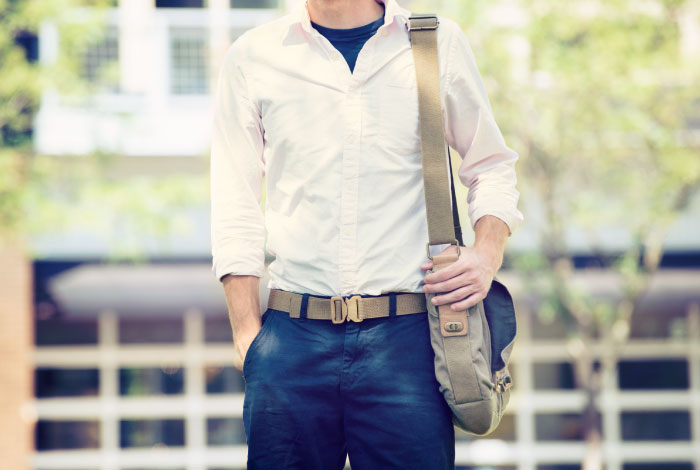 Happy Klik Customers: A Look At A Few More Recent Klik Belts Reviews
We've said it before and we'll say it again: reviews are the lifeblood of businesses these days. Dwight Schrute of The Office even references the importance of online reviews for businesses as early as 2007 (when Season 4 of The Office aired). After panning to the camera, Dwight says, "Trip Advisor is the lifeblood of the agritourism industry. A couple of bad reviews there, you may as well close up shop. That's what took down the Stalk Inn, one of the cutest little asparagus farms you'll ever see."
A Thank You For Reviewing The Best Belts In The World
Mockumentaries aside, however, we really are thankful for all of the incredible feedback that we've received about Klik Belts. The feedback that we've fielded has been overwhelmingly positive — to date, we're rocking a 5-star average based on 2,778 reviews — and counting! We truly believe that we sell the best belts online and the best belts on Planet Earth, and our constant customer feedback is what supports this belief.
From concealed carry users to law enforcement officers and even everyday dog owners, there really is a Klik Belt for everyone. To learn more about some of our recent customer experiences, keep reading below.
Sharing Recent Customer Reviews For Klik Belts
"Beautiful, Cool Belt. Amazing Customer Service!"
"I have three of these belts and they are simply fantastic. Nice functional design. Good looking and cool. I had to exchange my original purchase for a different size and the person at Klik Belts was fantastic to deal with. Exceptional customer service."
Anonymous, Verified Buyer, 5-stars
Thank you, anonymous buyer, for sharing your experience with Klik Belts! Over time, we've noticed that our stellar, above-and-beyond customer service is mentioned in the majority of customer reviews. We really pride ourselves in taking good care of our customers whether you accidentally purchased the wrong belt or something broke and it's our job to replace it. We firmly believe that's how all businesses should operate by taking great care of their customers. Really, it's pretty simple!
"Beautiful Leather!"
"Very well made. It takes a little more force to adjust than the 1-1/2" nylon but seems to get easier the more I wear it. I love Klik belts and this meets my needs for a dressy belt."
Michael J., Verified Buyer, 5-stars
When people first hear about Klik Belts, their immediate doubt lies in the fact that our clickable belts won't look sharp enough for formal occasions. Clearly, as Michael J. just outlined, our leather belts with COBRA® click buckles aren't just practical and ultra-strong, but they're also dressy enough for formal occasions and everyday business wear.
Due to the high-quality, genuine leather materials used, our leather belts do take a bit more work to secure than our traditional nylon belts, but this gets easier over time as your leather belt gets broken in. Thanks for the review, Michael!
"Super Stoked On My New Belt"
"I ordered the wrong belt. 100% my fault when I called customer service Klik immediately sent me a new belt with a free return label and packing material. Blew my mind. The belt fits perfect and does an ever better job that what I expected. Their pricing is more than fair for the quality of product they are producing. Again, very happy customer!"
Pedar E., Verified Buyer, 5-stars
As it turns out, Pedar, we're actually in the business of blowing people's minds...with our great customer service and incredible belts! We get that mistakes happen, and when thousands of people order our belts over the course of several years, there are bound to be some accidental orders. You paid good money for your belt, therefore, you should get what you actually want, and more importantly, what you'll actually wear.
We're glad to hear that you think our pricing is fair relative to the unbeatable quality of our products. We agree that we're really hooking our customers up in terms of what they're getting based on what they paid for it, and while our belts for sale may be more expensive than your conventional belt, it'll probably be the last belt that you'll ever purchase!
"Best Belt Around"
"First off, customer service is top notch. Second, the quality of this belt is amazing! Great build, amazing look, and even better performance! If you are in the need for a belt, look no further! These belts will last a very long time!"
Corey S., Verified Buyer, 5-stars
Corey's review pretty much says it all — our customer service is stellar, the quality of his Klik Belt is the best in the belt market, it looks amazing, feels well-built, and is willing to work as hard as he does. Oh, and he mentioned that Klik Belts will last a very long time, which is definitely the case.
"Sturdy And Comfortable Concealed Carry"
"I love this belt the 2 ply allows for Sturdy and comfortable concealed carry inside or outside the pants."
Brandon H., Verified Buyer, 5-Stars
Klik Belts were created to revolutionize the belt experience as the world once knew it, but they were also made specifically for concealed carry owners in mind. We're happy that you're enjoying your Klik Belt for this exact purpose, Brandon.
The Best Belt For Anything That Life Throws At You
When it comes down it, Klik Belts are the best belt for any application in life, and our reviews prove it. Ready to be Klik Belts' next success story? Get a COBRA® buckle belt for yourself today!