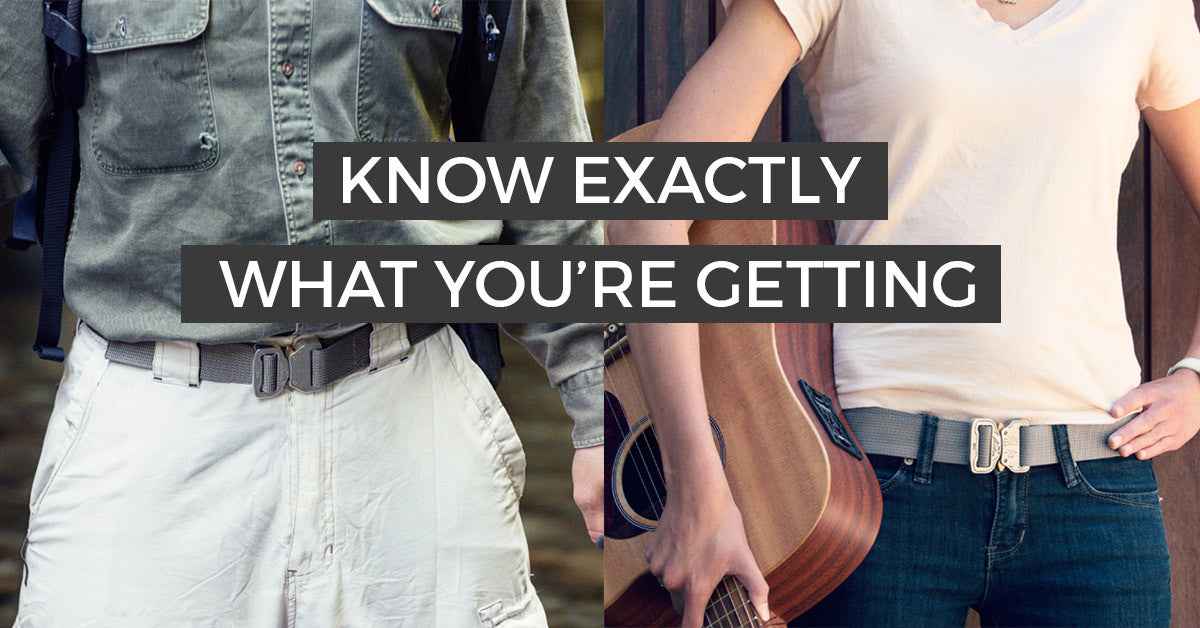 We Take the Risk Out of Buying Belts Online
We get it—buying belts online is always a bit of a gamble, isn't it? Although a website advertises that it has the "best belts for men," that's not always the case when it shows up in the mail.
"This is the heavy duty belt I ordered?"
At Klik Belts, that's something we never want you to say. All it takes is a quick look at our customer reviews to see that we're doing something different. When we say that we make high-quality belts, that's exactly what we mean.
We want to make sure that you're totally satisfied with your purchase. That's why we offer our belts in different colors and combinations so that no matter whether you're using our belts as a part of your everyday wear, out on a camping trip, or as a component of your attire while you're on the job, you can be sure that your Klik Belt won't let you down.
How We Make Buying Belts Online Easy
The thing that separates Klik Belts from the competition is that we seek to inform our customers. We have put together a number of helpful guides to ensure that you know exactly what you're going to be getting when you order one of our heavy duty belts.
Wondering if you should choose a 1 Ply or 2 Ply belt? Not to worry. We have some information for you that should make the decision a little easier.
Similarly, we have compiled a list of our most frequently asked questions to make sure you have the information you need before you order. (Of course, you can always feel free to reach out to us here on our website or hit us up on social media to get any remaining questions you have answered.) From how we chose our company's name to how to choose which size of Klik Belt you should order to how to place a custom order for either size or color combination, we want you to have the answers you're looking for.
What Makes Our Heavy Duty Belts The Best
Simply put, we wanted to make the absolute best belt possible. That's why we use a Patented 7075 Aluminum Alloy Cobra® Buckle in combination with solid brass release clips and heavy duty military spec nylon webbing for each of our Klik Belts. We also choose to make our product here in the United States (in Austin, Texas to be specific) because we wanted to be sure that we had complete control over the quality of every Klik Belt that we sell.
At the end of the day, we've created a product that we're proud of. From the high quality materials to the attention to detail that we put into handcrafting every Klik Belt, we think you'll agree that we make quality belts. Our belts are even strong enough to withstand a force of 4050 lbs.
What happens if your belt breaks, you ask? Well, in the extremely unlikely event that that happens, just reach out to us. First of all, we'll congratulate you for making the impossible possible and recommend that you try to pull the sword out of the stone as well, because you, friend, are the heir to the throne of England. In all seriousness though, if your Klik Belt does break, just contact us and we'll make it right with our lifetime guarantee.
Buying belts online shouldn't be a gamble. Read more about us and get a feel for our story and who we are and then place your order to join the Klik Belt revolution and start your day with a satisfying "klik!"