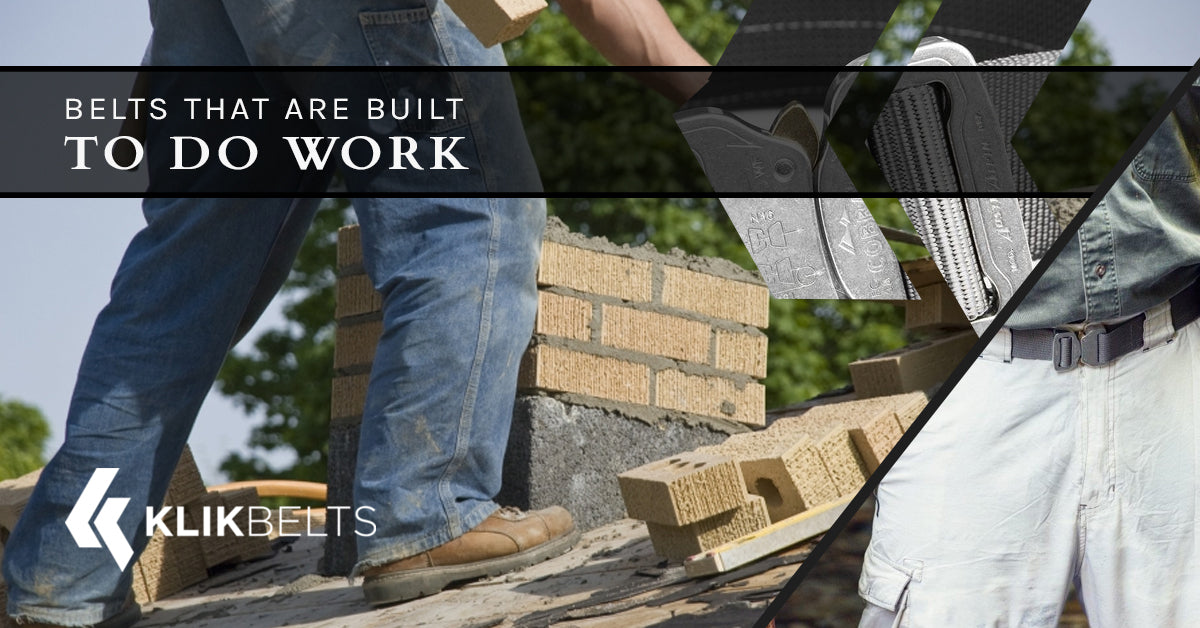 Belts That Are Built to Do Work
If you've been looking at works belts and you're just not convinced that they're going to stand the test of time, we have some good news for you--it's because you haven't tried a Klik Belt yet! Perhaps you've been going through belt after belt, disappointed in the quality of belts that were supposedly designed to be worn on the job. We believe that heavy duty belts should live up to their name and that you shouldn't have to worry about a belt falling apart on the job.
That's why we decided to do something about it. When we set out to make the world's strongest belts, our goal was simply to take an everyday object--one that people rely on day in and day out--and to improve on it. We think that we have done just that.
What Makes a Klik Belt So Special?
Chances are that you don't go a day without wearing a belt, and if you're on the jobsite, you've probably found that a work belt is a necessity. Fortunately for you, Klik Belts were designed specifically with a few ideas in mind. Those ideas were that we could make a belt that was incredibly tough that still looked pleasing to the eye.
That's why every Klik Belt is made from 7075 aluminum alloy (which is used for the Cobra buckles), solid brass release clips, and military spec nylon webbing that comes in at a whopping inch and a half thick. We know what you're thinking. "If it's that tough, won't it make it a little too bulky?" The answer is no.
We chose the materials we did because of their combination of lightweight strength and good looks in order to ensure that each and every belt we made could not only stand the test of time, but also do double duty. What we mean by that is that you can go an entire day at work with your belt, run home to change your shirt, and look nice and presentable for a night out on the town without ever changing your belt. Sounds like a win/win situation to us.
An In Depth Look at the Materials We Use
If you've never heard of 7075 aluminum before, there are a few things you should know. First of all, the aerospace industry has been using it for nearly three quarters of a century in everything from fighter planes to spaceships. What that means is that it's incredibly strong and durable. As a matter of fact, the only metal stronger might be one that's a complete work of fiction--adamantium (known primarily for being the metal that covers the entire skeleton of the X-Men's Wolverine).
Solid brass release clips are used because of their exceptional durability without adding weight. The nylon used for the belt strap was chosen for the same reason--it can stand up to more stress than the average person is going to throw at it.
Take a Look at the Reviews
Click here to take a look at some recent Klik Belt reviews. One of our buyers had the following to say: "Great quality belt. Easy to put on and great for your EDC essentials. Great customer service as well! Will definitely purchase more belts."
That's all well and good (and we appreciate the kind words!) but how does it hold up when you use it as a work belt? This review from Mark D. sums things up quite nicely: "Bought mine to use on wildland fire assignments, but it's now my every-day go-to belt. Fantastic!!! And your customer service has been great, too. I'll definitely be buying more!" We are so glad to hear that your belt is holding up nicely and that you're wearing it outside of work as well. That's exactly why we got started!
If you're concerned about how the belt goes together (i.e.- with a satisfying "klik"), let this review speak for itself--"I got the belt delivered really fast! I'm wearing it now. I love it! It took me a few days to get use to the locking mechanism but now it's second nature. Really good quality."
When you're in need of a tough belt that stands up to the demands of your daily life, look no further. Order your Klik Belt today!